Boccacio rockfish
Bocaccio can be found from Stepovak Bay, Alaska to central Baja California, but is mostly abundant from Oregon to northern Baja California.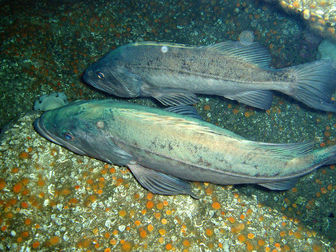 The Boccacio rockfish lives in the reef-associated, marine, depth range 0 - 476 m environment.
The Boccacio rockfish is classified as Critically Endangered (CR), facing an extremely high risk of extinction in the wild.

Boccacio rockfish commercial fishery catch distribution map is linked below: * BC Bottom Trawl Fishery 1996-2003 The seasonal depth distribution of bocaccio rockfish catch in the BC bottom trawl fishery from 1996 to 2003 is shown below. More
* Boccacio Rockfish: Standard | High-Resolution * Black Rockfish: Standard | High-Resolution * Lingcod: Standard | High-Resolution * Yelloweye Rockfish: Standard | High-Resolution More
brink of extinction and boccacio rockfish, one of a group of species known as Pacific snapper, have shrunk to 2 percent ... http://www.mbnms.nos.noaa.gov/educate/newsletters/2000Eco/Pages/physical.html MBNMS Ecosystems Observations 1999 - THE PHYSICAL ENVIRONMENT: ...yellow rockfish recruited in great numbers (Figure 1). More
A 50 cm Boccacio rockfish, for example, will produce nearly 200,000 larvae, while an 80 cm fish will produce ten times that - nearly 2 million. These larvae are released into harsh ocean conditions without parental care. More
Common names
bocaccio in English
Bocaccio rockfish in English
Boccacio rockfish in English
Chancharro bocacio in Spanish (español)
Karmazyn bokacio in Polish (polski)
Klipperødfisk in Danish (dansk)
Rock salmon in English
rockfish in English
Rocote bocaccio in Spanish (español)
Sébaste bocace in French (français)
бокачио in Russian (русский язык)
稀棘平鮋 in Mandarin Chinese
稀棘平鲉 in Mandarin Chinese

Custom Search