Carp bream
The common bream can be caught in most stocking fisheries and canals and some rivers.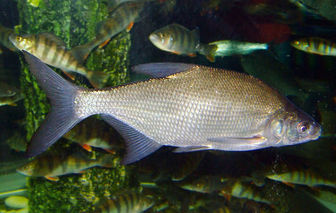 The Carp bream lives in the benthopelagic, potamodromous, freshwater, brackish, pH range: 7.0 - 7.5, dH range: 15, depth range 1 - m environment.
Carp Bream - European Bottom-Dwellers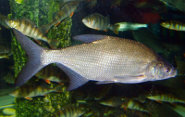 The carp bream (Abramis brama) is an abundant fresh-water fish commonly found at the bottoms of fresh-water canals, lakes and ponds, and on some river bottoms. Their silvery gray body is flat with a high back, and gray or black fins. Older fish may have a bronze color, especially if living in clear water. Adult carp bream can range in size from 12" to 22" (30-55 cm), and weigh between 4 and 9 pounds (2-4 kilograms).

The carp bream is an widespread European and Asian species not currently threatened. Their home range is that part of Europe north of the Pyrenees and the Alps, stretching north to the southern reaches of Scandinavia, and east through the Balkans to those areas around the Aral, the Caspian, and the Black Seas.

Carp bream live in schools on the bottoms of lakes and rivers. At night, they feed close to shore, and, during the day, on sandy bottoms in clear water. The carp bream's small protracting mouth digs through mud and silt for larvae, gastropods, and bivalves on which to feed, and nibbles on plankton and water plants. A large carp bream may even eat other small fish. Carp bream themselves are eaten by perch and pike.

Bottom overfeeding may result in food shortages, and the young fish in the school may have to resort to filter feeding with their gill rakers, catching small aquatic crustaceans called water fleas for food. But, as the carp bream reach adulthood, their gill rakers grow far enough apart that they are no longer able to feed on this abundant prey, resulting in a natural limit on the carp bream's size for those that feed mostly on water fleas.

The carp bream sexually mature around the age of three years. Spawning occurs for the carp bream April to June. Males patrol and protect territories where females lay their many eggs upon the leaves and stems of water plants. Over a week or two, the eggs develop into fish larvae, and then into slender young fish, who detach from the plants, and live as youngsters in the "water column," the vertical length of water stretching from the surface to the bottom. The young carp bream do not become full-fledged bottom-dwellers until they are at least several months old. At that point, they achieve the body and color of the adult carp bream, and begin bottom-feeding.
Common names
Abramide in Italian (Italiano)
Albitura in Rumanian
anj in Other
anja in Other
Aral bream in English
Blacke in German (Deutsch)
Bläuer in German (Deutsch)
Bleg in German (Deutsch)
Blei in German (Deutsch)
Bleibräsem in German (Deutsch)
Bleier in German (Deutsch)
Bleiert in German (Deutsch)
Bliek in Dutch (Nederlands)
Blutige in German (Deutsch)
bowfin in English
Brachmen in German (Deutsch)
Brachs in German (Deutsch)
Brachse in German (Deutsch)
Brachsen in German (Deutsch)
Brächsle in German (Deutsch)
Brachsmann in German (Deutsch)
Brachsmen in German (Deutsch)
Brachsner in German (Deutsch)
Brama in Italian (Italiano)
Brame in French (français)
Bramen in French (français)
Bramo (fiŝo) in Esperanto
Bran in Gaelic, Irish
Bran in Irish (Gaeilge)
Bräse in German (Deutsch)
Brasem in Dutch (Nederlands)
Bräsem in German (Deutsch)
Brasen in Danish (dansk)
Brasen in German (Deutsch)
Brasme in Norwegian (Norsk)
Brasse in German (Deutsch)
Brassen in German (Deutsch)
Brassenplieten in German (Deutsch)
Braßmens in German (Deutsch)
Braxen in Swedish (Svenska)
bream in English
bream in Ukrainian (українська мова)
Breisen in German (Deutsch)
Breissen in German (Deutsch)
Breitelen in German (Deutsch)
Breitling in German (Deutsch)
Brell in Breton (brezhoneg)
Brema in Catalan (Català)
Brema in Portuguese (Português)
Brema común in Spanish (español)
Brème in French (français)
Brème carpée in French (français)
Brème commune in French (français)
Brème d'eau douce in French (français)
Breom in German (Deutsch)
Bresen in German (Deutsch)
Bressen in German (Deutsch)
Bretling in German (Deutsch)
Bretzing in German (Deutsch)
Brisem in German (Deutsch)
Bronze bream in English
Capak baligi in Turkish (Türkçe)
Cârjanca in Rumanian
Carp bream in English
Cejn veliký in Czech (česky)
Cejn velká in Czech (česky)
Cejn velký in Czech (česky)
Common bream in English
Danube bream in English
Dévér keszeg in Hungarian (Magyar)
Deverika in Croatian (Hrvatski)
Deverika in Serbian (српски језик)
Dlešec in Czech (česky)
Dlešec in Czech (česky)
Dlešť in Czech (česky)
Dlešt in Czech (česky)
Dombrachsen in German (Deutsch)
Eastern bream in English
Foaia-plopului in Rumanian
Freshwater bream in English
Grande brème in French (français)
Güster in German (Deutsch)
hajin in Other
hajma in Other
hajn in Other
Halbfisch in German (Deutsch)
Klesch in German (Deutsch)
Lahna in Finnish (suomen kieli)
Latikas in Estonian (Eesti keel)
Lesch obyknovennyi in Russian (русский язык)
Leshtsch in Russian (русский язык)
Lestia in Greek (Ελληνικά)
Lestia in Greek, Modern (1453)
Leszcz in Polish (polski)
Leszcz aralsko-kaspijski in Polish (polski)
Leszcz poludniowoeuropejski in Polish (polski)
Ljashch in Ukrainian (українська мова)
Locutis in Prussian, Old
Mackel in German (Deutsch)
Mahi-ye Sim in Farsi
Mahi-ye Sim in Persian (‫فارسی)
Merfog in Welsh (Cymraeg)
Paprastasis karšis in Lithuanian (lietuvių kalba)
Perlbrachsen in German (Deutsch)
Plaquette in French (français)
Platica in Romanian (română)
Plătică in Rumanian
Platika in Bulgarian (български език)
Pleskac vysoky in Czech (česky)
Pleskac vysoky in Slovak (slovenčina)
Plietfische in German (Deutsch)
Ploscic in Slovene
Ploscic in Slovenian (slovenščina)
Pražma in Czech (česky)
Pražma in Czech (česky)
Reissfisch in German (Deutsch)
Rheinbraxen in German (Deutsch)
Scheibpleinzen in German (Deutsch)
Scheitele in German (Deutsch)
Schlaffke in German (Deutsch)
Schniebpleinzen in German (Deutsch)
Schrickel in German (Deutsch)
Seam in Farsi
Seam in Persian (‫فارسی)
senj in Other
Sim in Farsi
Sim in Persian (‫فارسی)
sinj in Other
sinjača in Other
sinjača in Other
Steinbrachsen in German (Deutsch)
Sunnfisch in German (Deutsch)
Tahta baligi in Turkish (Türkçe)
Weißfisch in German (Deutsch)
Λεστιά in Greek (Ελληνικά)
Λεστιά in Greek, Modern (1453)
Πλατάνα in Greek (Ελληνικά)
Πλατάνι in Greek (Ελληνικά)
Πλατσούκι in Greek (Ελληνικά)
Τσαπούκα in Greek (Ελληνικά)
Χάνι in Greek (Ελληνικά)
восточный лещ/Аральский лещ in Russian (русский язык)
Деверика in Serbian (српски језик)
Ёді in Komi (коми кыв)
Лешч in Belarusian (Беларуская)
лещ in Russian (русский язык)
Чыгыш тыраны/Арал тыраны in Kirghiz (кыргыз тили)
კაპარჭინა (თევზი) in Georgian (ქართული)
سيم in Farsi
ماهي سيم in Farsi
ماهی سیم in Persian (‫فارسی)
东方欧鳊(引进) in Mandarin Chinese
東方歐鯿(引進) in Mandarin Chinese
欧鳊 in Mandarin Chinese
歐鯿 in Mandarin Chinese

Custom Search