Horn shark
The horn shark, Heterodontus francisci, is a species of bullhead shark, family Heterodontidae.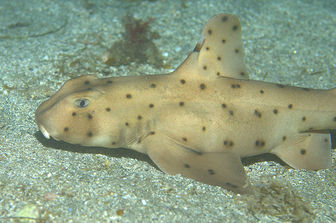 Picture of the Horn shark has been licensed under a Creative Commons
Attribution
.
Original source
: Horn Shark Author Ed Bierman from CA, usa C
Author
: Ed Bierman from CA, usa Camera location
The Horn shark lives in the demersal, marine, depth range 2 - 150 m , usually 2 - 11 m environment.
The Horn Shark - The Seafaring Unicorn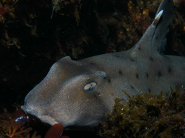 The horn shark (Heterodontus francisci) is one of nine living Heterodontiformes or bullhead sharks. Fossil records dating back more than 100 million years have established bullheads as the first type of sharks to inhabit the oceans. The small-bodied horn shark is easy to identify by its blunt bull snout, piggish nostrils, and pronounced ridges directly over the eye sockets. To blend in with the rocky sea caves and sandy flats it inhabits, the horn shark has developed grayish-tan colored skin with a speckling of small dark brown dots for camouflage. The feature that gives horn sharks their name and makes them so unique is the set of two deeply-rooted venomous spines or recurved horns in front of the shark's dorsal fins. When attacked by angel sharks and elephant seals, the horn shark's spines act as a deadly defense mechanism that makes their body too difficult or too painful for predators to swallow.

In nature, horn sharks are typically two feet or 58cm long when they reach maturity although many will continue to grow until they are one meter long or a little more than one yard. Mature horn sharks generally weigh around 10 kilograms or 22 pounds. According to scientific records, the largest horn shark measured 122cm or 48" although measurements of 97cm or 38" are more common.

The natural range of the horn shark extends from Northern California through the Baja Peninsula and the Gulf of California. Adults prefer deep waters and rocky reefs on the continental shelf while juveniles begin life in the sandy shallows closer to the coast. Unfortunately, horn sharks are targets for aerial attacks by bald eagles and other birds of prey while enjoying their shallow water feeding grounds.

The horn shark's diet is made of up hard-shells mollusks and crustaceans, such as gastropods, sea urchins, crabs, and shrimp, which are crushed between the shark's large molar-like teeth. The horn shark's Latin name Heterodontus literally translates to mixed teeth from the root words hetero and odonto. Although the horn shark is not endangered, they are caught unintentionally in the indiscriminate trawler nets of commercial fishing vessels. Horn sharks are also caught and killed for their horns, which are used to make jewelry.

This naturally nocturnal hunter is a docile shark that only strikes humans if provoked. The horn shark's calm nature makes it a good candidate for aquariums. However, immature juvenile are preferred for home fish tanks while mature horn sharks are only seen in public aquariums.
Common names
Boynuzlu köpekbalığı in Turkish (Türkçe)
Bullhead shark in English
California bull-head shark in English
Californische stierkophaai in Dutch (Nederlands)
Californisk hornhaj in Danish (dansk)
dormilón cornudo in Spanish (español)
Gata in Spanish (español)
Heterodontus francisci in Italian (Italiano)
Heterodontus francisci in Spanish (español)
horn shark in English
Horn-foki cápa in Hungarian (Magyar)
horned shark in English
hornshark in English
Kalifornia härghai in Estonian (Eesti keel)
Kalifornský žralok plochozubý in Czech (česky)
Kalifornský žralok plochozubý in Czech (česky)
requin dormeur cornu in French (français)
Sarvihai in Finnish (suomen kieli)
Shark in English
Stierkopfhai in German (Deutsch)
Tauró dormidor banyut in Catalan (Català)
Tiburón in sp
Tiburón cabeza de toro in Spanish (español)
Tiburón cornudo in Spanish (español)
Tiburón gato in Spanish (español)
tiburón puerco in Spanish (español)
бычья-акула американская in Russian (русский язык)
佛氏虎鯊 in Mandarin Chinese
佛氏虎鲨 in Mandarin Chinese

Custom Search