Great white shark
The best selling novel Jaws and the subsequent film by Steven Spielberg provided the great white shark with the image of a man eater in the public mind.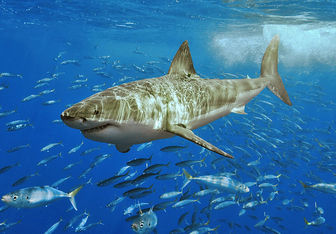 Picture of the Great white shark has been licensed under a
GFDL
Original source
: Derivative of w:Image:Whiteshark-TGoss5b.jpg Author
Author
: Pterantula (Terry Goss) at en.wikipedia Permission (
Permission
: GNU Free Documentation License
The Great white shark lives in the pelagic-oceanic, oceanodromous, brackish, marine, depth range 0 - 1280 m , usually 0 - 250 m environment.
The Great White Shark: Nature's Most Fearsome Hunter
The great white shark (Carcharodon carcharias), although it's more commonly known as 'great white' or 'white death'. The great white is one of the most fearsome hunters on the planet and is known primarily for its size, which can be up to 6 metres (20 feet) or more with a weight of over 2,240 kilograms (4,938 pounds). The great white shark is the only surviving member of its genus, Carcharodon.

An interesting thing about great white sharks is their distribution. Great whites currently inhabit virtually all coastal waters with temperatures between 12 and 24 degrees Celsius, or 54 and 75 degrees Fahrenheit. Typically, however, great whites tend to congregate in high numbers around Australia, California, the northeastern United States, South Africa, New Zealand, Isle Guadalupe of Mexico and the Mediterranean waters. In fact, the densest population of sharks is found off the coast of Dyer Island of South Africa and it's here that most great white research takes place.

Currently, the social behavior and structure of great whites is not well known. Studies on populations in South Africa show a dominance hierarchy, which depends on a number of things like size and gender. Female great whites dominate males and area residents display dominance over newcomers to the area.

The diet of the great white shark is very diverse and they will prey upon everything from fish, cetaceans, pinnipeds, sea turtles, sea birds and sea otters. Popular prey includes tuna fish, rays, other sharks, dolphins and whales and especially sea lions, and seals. Great white sharks also have a reputation for consuming inedible objects like license plates and cans, which can often be found in the bellies of these sharks when they're caught. One reputation that the great white has not earned is as an "eating machine." Great whites are ambush hunters, choosing to take their prey from below. Their hunting style also seems to vary depending on their prey. For example, they prefer to attack seals at such high speeds near the surface of the water that they'll actually completely leave the water's surface. Dolphins, on the other hand, are usually attacked from above or behind to avoid their echolocation. In the wild, great whites are known as apex predators, meaning they have virtually no enemies other than the killer whale on occasion.

Great whites became infamous after their depiction in the 1975 movie Jaws, portraying the shark as a man eater. Fortunately, great whites very rarely attack and kill humans, and are not likely to even target them for attack. In the densely populated Mediterranean Sea, for example, there have only been 31 confirmed attacks on humans in the last two hundred years and most of these attacks were non-fatal. It's believed that attacks on humans are merely a case of mistaken identity as the shark probably sees a swimmer from below as a seal. Great whites are currently considered a vulnerable species, although it's not known exactly how large their population is. Still, conservation efforts are in place to protect the great white from hunting.

Picture of the great white shark by Terry Goss, licensed under GFDL
Common names
Africano in Spanish (español)
Alequim in Portuguese (Português)
Anequim in Portuguese (Português)
Anequin in Portuguese (Português)
bela ajkula in Serbian (српски језик)
Blå haj in Danish (dansk)
Cá M?p tr?ng in Vietnamese (Tiếng Việt)
Cá Mập trắng in Vietnamese (Tiếng Việt)
Cação-anequim in Portuguese (Português)
Cação-anequin in Portuguese (Português)
Canavar baligi in Turkish (Türkçe)
Canavar balığı in Turkish (Türkçe)
Canesca in Italian (Italiano)
Canusu in Italian (Italiano)
Carcharodon carcharias in Italian (Italiano)
Carcharodonte in French (français)
Damiano in Italian (Italiano)
Devorador de hombres in Spanish (español)
Geldevaja akula in Russian (русский язык)
Gran tauró blanc in Catalan (Català)
Grand requin blanc in French (français)
great white shark in English
Harharias baligi in Turkish (Türkçe)
Harharias balığı in Turkish (Türkçe)
Hohojirozame in Japanese (日本語)
Huta tax-Xmara in Maltese (Malti)
Hvid Haj in Danish (dansk)
Hvithai in Norwegian (Norsk)
Iperu in Portuguese (Português)
İri ağ köpək balığı in Azerbaijani (azərbaycan dili)
Jaquentón blanco in Spanish (español)
jaquetón in sp
jaquetón in Spanish (español)
Jaquetón blanco in Spanish (español)
Jaquetón de ley in Spanish (español)
K'wet'thenéchte in Salish
Kalb in Arabic (‫العربية)
Kalb bahr in Arabic (‫العربية)
Karish lava in Hebrew (‫עברית)
Karkarias in Turkish (Türkçe)
Karkarias baligi in Turkish (Türkçe)
Karkarias balığı in Turkish (Türkçe)
Kelb Abjad in Maltese (Malti)
Kelb il - bahar Abjad in Maltese (Malti)
Kelb il-bahar in Maltese (Malti)
Lielā baltā haizivs in Latvian (latviešu valoda)
Łóó' hashkéhétsoh in Navajo (Diné bizaad)
Man eater in English
Man-eater in English
Man-eater shark in English
Maneater in English
Maneater shark in English
Mangeur d'hommes in French (français)
Mangia alici in Italian (Italiano)
Mango-taniwha in English
Mango-ururoa in English
Manzo de mar in Italian (Italiano)
Marrajo in Spanish (español)
Menneskehaj in Danish (dansk)
Menschenhai in German (Deutsch)
Mensen haai in Dutch (Nederlands)
Mensenhaai in Dutch (Nederlands)
Nagy fehér cápa in Hungarian (Magyar)
Niuhi in Hawaiian
Pas ljudožder in Croatian (Hrvatski)
Pas ljudožder in Croatian (Hrvatski)
Pas modrulj in Serbian (српски језик)
Pating in Tagalog
Pesce hane in Italian (Italiano)
Pescecane in Italian (Italiano)
Pesci can in Italian (Italiano)
Peshkagen njeringrenes in Albanian (Shqip)
Peshkaqen njeringrenes in Albanian (Shqip)
Pesse can in Italian (Italiano)
Pisci bistinu in Italian (Italiano)
Pisci cani in Italian (Italiano)
Žralok bílý veliký in Czech (česky)
Rechin alb in Rumanian
Rechin mancator de oameni in Rumanian
Requin in French (français)
Requin blanc in French (français)
Requin mangeur d'homme in French (français)
Rinkin gwenn in Breton (brezhoneg)
Sbrillias in Greek (Ελληνικά)
Sbrillias in Greek, Modern (1453)
Shark in English
Silfjun in Maltese (Malti)
Skylópsaro sbríllios in Greek (Ελληνικά)
Skylópsaro sbríllios in Greek, Modern (1453)
Smprilios in Greek (Ελληνικά)
Smprilios in Greek, Modern (1453)
Squalo bianco in Italian (Italiano)
Stor hvid haj in Danish (dansk)
Stor vit haj in Swedish (Svenska)
Store hvide haj in Danish (dansk)
Tauró blanc in Catalan (Català)
Tiburón in sp
Tiburón antropófago in Spanish (español)
Tiburón blanco in Spanish (español)
Tribon blancu in Papiamento
tubarão in Creole, Portuguese
tubarão in Creoles and Pidgins, Portuguese
tubarão in Portuguese (Português)
Tubarão branco in Portuguese (Português)
Tubarão de São Tomé in Portuguese (Português)
Tubarão-anequim in Portuguese (Português)
Tubarão-branco in Portuguese (Português)
Tubarão-de-São-Tomé in Portuguese (Português)
Tunnu palamitu di funnu in Italian (Italiano)
Valkohai in Finnish (suomen kieli)
velika bela ajkula in Serbian (српски језик)
Velika bijela ajkula in Bosnian (bosanski jezik)
Velika bijela psina in Croatian (Hrvatski)
Vithaj in Swedish (Svenska)
Wahsh in Arabic (‫العربية)
Weißer Hai in German (Deutsch)
Weißhai in German (Deutsch)
White death in English
White pointer in English
White shark in English
Witdoodshaai in Afrikaans
Witte haai in Dutch (Nederlands)
Wittehaai in Dutch (Nederlands)
Zarlacz ludojad in Polish (polski)
Żarłacz biały in Polish (polski)
Žralok bílý in Czech (česky)
Žralok bílý veliký in Czech (česky)
Žralok modrý in Slovak (slovenčina)
Καρχαρίας in Greek (Ελληνικά)
Λάμια in Greek (Ελληνικά)
Λευκός καρχαρίας in Greek (Ελληνικά)
Σκυλόψαρο in Greek (Ελληνικά)
Σμπρίλιος in Greek (Ελληνικά)
Σμπρίλιος in Greek, Modern (1453)
Большая белая акула in Russian (русский язык)
Бяла акула in Bulgarian (български език)
Велика бела ајкула in Serbian (српски језик)
Велика біла акула in Ukrainian (українська мова)
თეთრი ზვიგენი in Georgian (ქართული)
ފެމުނު މިޔަރު in Divehi (‫ދިވެހި)
ปลาฉลามขาว in Thai (ไทย)
ホホジロザメ in Japanese (日本語)
噬人鯊 in Mandarin Chinese
噬人鲨 in Mandarin Chinese
大白鯊 in Mandarin Chinese
大白鲨 in Mandarin Chinese
食人鮫 in Mandarin Chinese
食人鲛 in Mandarin Chinese
백상아리 in Korean (한국어)

Custom Search