Scarlet characin
The cardinal tetra, Paracheirodon axelrodi, is a freshwater fish of the characin family of order Characiformes.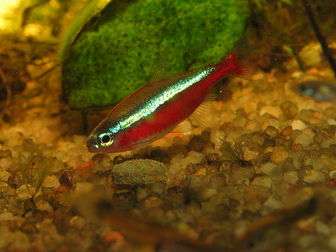 Picture of the Scarlet characin has been licensed under a Creative Commons
Attribution
.
Permission
: The copyright holder of this file allows anyone to use it for any purpose, provided that the copyright holder is properly attributed. Redistribution, derivative work, commercial use, and all other use is permitted.
The Scarlet characin lives in the pelagic, non-migratory, freshwater, pH range: 4.0 - 6.0, dH range: 5 - 12 environment.
The amazing new fish called the scarlet characin (Cheirodon axelrodi, new species) Shultz, L.P. (1959) 2441 Trop.Fish Hobbyist, 8(2):6–11 The generic status of Mimagoniates and Glandulocauda, South American characid fishes Shultz, L.P. More
Scarlet Characin (Paracheirodon axelrodi) Click to see pictures Scarlet Cleaner Shrimp (Lysmata debelius) Click to see pictures Scarlet Honeyeater (Myzomela sanguinolenta) Click to see pictures Scarlet Ibis (Eudocimus ruber) More
Common names
cardinal tetra in English
Kardinaalitetra in Finnish (suomen kieli)
Kardinaaltetra in Dutch (Nederlands)
Kardinaltetra in German (Deutsch)
Kardinaltetra in Norwegian (Norsk)
Kardinaltetra in Swedish (Svenska)
Krasnyi neon in Russian (русский язык)
Neon in English
Neon czerwony in Polish (polski)
Neon czerwony a. neonek Axelroda in Polish (polski)
Neon tetra in English
Qardinal tetra in Azerbaijani (azərbaycan dili)
Raudonasis neonas in Lithuanian (lietuvių kalba)
red neon in English
Roter Neon in German (Deutsch)
Rød neon in Danish (dansk)
Scarlet characin in English
Tetra-cardeal in Portuguese (Português)
Vörös neonhal in Hungarian (Magyar)
カージナルテトラ in Japanese (日本語)
阿氏霓虹脂鯉 in Mandarin Chinese
阿氏霓虹脂鲤 in Mandarin Chinese

Custom Search