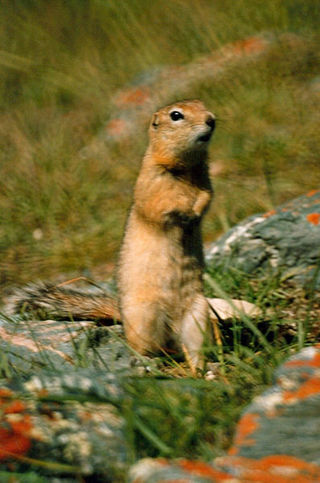 Picture has been licensed under a Creative Commons
Attribution ShareAlike
license
Original source
: Own work. Transferred from http://ru.wikipedia.org/wiki/????:??????_?????????????.jpg
Author
: Cherttod
Long-tailed ground squirrel
Order : Rodentia
Suborder : Sciurognathi
Family : Sciuridae
Subfamily : Sciurinae
Species : Spermophilus undulatus

The Long-tailed ground squirrel is listed as Least Concern (LR/lc), lowest risk. Does not qualify for a more at risk category. Widespread and abundant taxa are included in this category, on the IUCN Red List of Threatened Species
Namings for the longtailed ground squirrel
A young / baby of a longtailed ground squirrel is called a 'pup, kit or kitten'. The females are called 'doe' and males 'buck'. A longtailed ground squirrel group is called a 'dray or scurry'.
Facts about the long-tailed ground squirrel
Ca-ATPase activity in sarcoplasmic reticulum (SR) membranes isolated from skeletal muscles of the typical hibernator, the ground squirrel Spermophilus undulatus, is about 2-fold lower than that in SR membranes of rats and rabbits and is further decreased 2-fold during hibernation.
Shpilenok The long-tailed ground-squirrel is a prominent resident. (Full text)
More animals beginning with L
Custom Search