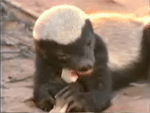 The honey badger (
Mellivora capensis
), or Ratel in Afrikaans, is the "most fearless animal in the world' according to the 2002 edition of the Guinness Book of Records. Watching National Geographic, I fell in love with these creatures. They do not fear anything! They plunder bee hives, kill snakes, etc. This video is an excerpt of the film "Snake killers: Honey badgers of the Kalahari" on National Geographic. A honey badger chases down a snake in a tree and eats it.
The Honey badger is listed as Least Concern (LR/lc), lowest risk. Does not qualify for a more at risk category. Widespread and abundant taxa are included in this category, on the IUCN Red List of Threatened Species
Namings for the honey badger
A young / baby of a honey badger is called a 'kit'. The females are called 'sow' and males 'boar'. A honey badger group is called a 'cete, colony, set or company'.
Countries
Afghanistan
,
Algeria
,
Angola
,
Benin
,
Botswana
,
Burkina Faso
,
Burundi
,
Cameroon
,
Central African Republic
,
Chad
,
Congo, Democratic Republic of the
,
Congo, Republic of the
,
Cote d'Ivoire
,
Djibouti
,
Egypt
,
Equatorial Guinea
,
Eritrea
,
Ethiopia
,
Gabon
,
Gambia, The
,
Ghana
,
GuineaBissau
,
India
,
Iran
,
Iraq
,
Israel
,
Jordan
,
Kenya
,
Kuwait
,
Lebanon
,
Liberia
,
Malawi
,
Mali
,
Mauritania
,
Morocco
,
Mozambique
,
Namibia
,
Nepal
,
Niger
,
Nigeria
,
Oman
,
Pakistan
,
Rwanda
,
Saudi Arabia
,
Senegal
,
Sierra Leone
,
Somalia
,
South Africa
,
Sudan
,
Swaziland
,
Syria
,
Tanzania
,
Togo
,
Turkmenistan
,
Uganda
,
United Arab Emirates
,
Western Sahara
,
Yemen
,
Zambia
and
Zimbabwe
Custom Search
Play animal guess