Ocellated electric ray
The bullseye electric ray or ocellated electric ray, Diplobatis ommata, is a species of numbfish, family Narcinidae, native to the eastern Pacific Ocean from Baja California to Ecuador.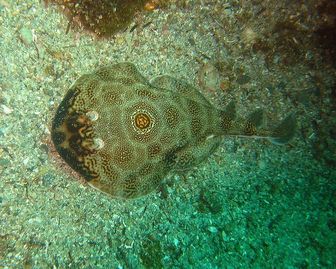 Picture of the Ocellated electric ray has been licensed under a Creative Commons
Attribution-Share Alike
.
Original source
: originally posted to Flickr as Bullseye Stingray - D
Author
: Steve Ryan Permission (
The Ocellated electric ray lives in the reef-associated, marine, depth range 0 - 64 m environment.
the ocellated electric ray, Diplobatis ommata, in the Gulf of California, Mexico Auteur(s) / Author(s) CAIRA J. N. (1) ; BURGE Alesia N. More
the ocellated electric ray, for the distinctive blue spots on its back. The common torpedo is capable of generating an electric shock of up to 45 volts. Its electrogenic properties have been known since ancient times, and it was used to treat pain by the Romans. More
The bullseye electric ray or ocellated electric ray, Diplobatis ommata, is a species of numbfish, family Narcinidae, native to the eastern Pacific Ocean from Baja California to Ecuador. More
the ocellated electric ray, for the distinctive blue spots on its back.... for treatment of headacheHeadache In medicine a headache or wiktionary:cephalalgia is a symptom of a number of different conditions of the head and sometimes neck. More
electric ray or the ocellated electric ray, for the distinctive blue spots on its back.... More
ocellated electric ray is marked in the centre with a distinctive bullseye. In common with many rays, the head and upper body of this species form a flattened disc, with large ... More
Ocellated electric ray on the sea bed Ocellated electric ray on the sea bedPrint factsheet Facts - Also known as: Bullseye electric ray Kingdom Animalia More
Common names
Bullseye electric ray in English
Electric ray in Unknown
electric-ray in English
Netečný rejnok Ocelli in Czech (česky)
Ocellated electric ray in English
Raie électrique ocellée in French (français)
Raya in Spanish (español)
Raya eléctrica in sp
Raya eléctrica de ocelo in Spanish (español)
raya eléctrica diana in Spanish (español)
Raya eléctrica ocelada in Spanish (español)
raya-eléctrica in sp
Schietschijfstroomrog in Dutch (Nederlands)
Target ray in English
双电鳐 in Mandarin Chinese
雙電鰩 in Mandarin Chinese

Custom Search