Ornate dogfish
The ornate dogfish, Centroscyllium ornatum, is dogfish shark which is not widely known.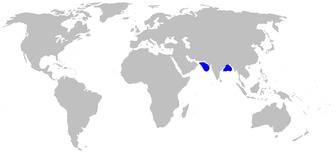 Picture of the Ornate dogfish has been licensed under a
GFDL
Original source
: Compagno, Leonard; Dando, Marc & Fowler, Sarah (2005). Sharks of the World. Collins Field Guides. ISBN 0-00-713610-2.
Author
: Chris_huh Permission (
Permission
: GNU Free Documentation License
The Ornate dogfish lives in the bathydemersal, marine, depth range 521 - 1262 m environment.
Range of ornate dogfish (in blue) Greyreefsharksmall2.jpg Sharks portal The ornate dogfish, Centroscyllium ornatum, is dogfish shark which is not widely known. More
Ornate dogfish elsewhere on the web * Wikipedia Edit and Show details Add or delete facts, download data in JSON or RDF formats, and explore topic metadata. More
* Ornate dogfishOrnate dogfish is referenced in the following: - Encyclopedia - Custom Glossary Ornate dogfish Ornate dogfishClick for the Encyclopedia entry+enc Ornate dogfishView a custom Glossary More
Common names
Aiguillat élégant in French (français)
ornate dogfish in English
Sierlijke lantaarnhaai in Dutch (Nederlands)
Tollo negro elegante in Spanish (español)
印度洋霞鯊 in Mandarin Chinese
印度洋霞鲨 in Mandarin Chinese

Custom Search