Bearded ghoul
Inimicus didactylus, also known as Demon Stinger or Devil Stinger, is a tropical fish.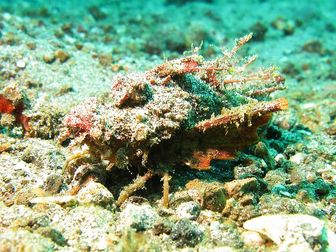 Picture of the Bearded ghoul has been licensed under a Creative Commons
Attribution
.
Original source
: originally posted to Flickr as Spiny Devilfish - In
Author
: Silke Baron Permission (
The Bearded ghoul lives in the reef-associated, brackish, marine, depth range 5 - 80 m environment.
- 10/7/2009 Bearded Ghoul — Hey everyone in Zombieland! Today's image was a really quick rendering done while doing a phone interview. I ended up giving it a very fast ink wash for a background making it resemble the Unfamous Monster series that I had done awhile back. More
The bearded ghoul is best recognized by the shape of its head and its elongate pectoral fins, which it uses for crawling along the bottom. More
This fish is known as Bearded Ghoul and the correct latin name is Inimicus Didactylus. It belongs to the Stonefish family. (e) It's origin is Indo-West Pacific. (e) Character and suggestions regarding care A semi-aggressive fish. More
Bearded Ghoul uses spiny fins for defense 32:40 Gurnard walks on pectoral fiss to find food in the gravel 36:25 Sleeper Shark ? below thermocline 36:45 Red More
Inimicus - Bearded ghoul, Demon stinger Inimicus didactylus - | | If you don't see the Index frame on the left click Here ShinyStat More
Common names
Bearded ghoul in English
Cá Mao Qui in Vietnamese (Tiếng Việt)
Demon stinger in English
Depu in Malay (bahasa Melayu)
devil stinger in English
goblinfish in English
Hime-oniokoze in Japanese (日本語)
Lepu in Malay (bahasa Melayu)
Longsnout stinger in English
Longsnout stingerfish in English
Lumpfish in English
Popeyed sea goblin in English
Spiny devilfish in English
双指鬼鲉 in Mandarin Chinese
虎魚 in Mandarin Chinese
虎鱼 in Mandarin Chinese
雙指鬼鮋 in Mandarin Chinese

Custom Search