Acadian redfish
Found in the northern Atlantic Ocean, the Acadian redfish lives in depths of 70 – 592 meters.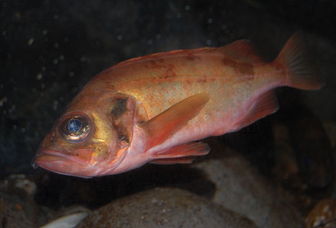 Picture of the Acadian redfish has been licensed under a
GFDL
Original source
: Own work
Author
: Steven G. Johnson
Permission
: GNU Free Documentation License
The Acadian redfish lives in the demersal, marine, depth range 70 - 592 m , usually 128 - 366 m environment.
The Acadian redfish is classified as Endangered (EN), considered to be facing a very high risk of extinction in the wild.

Acadian redfish at the New England Aquarium Conservation status Endangered (IUCN 3. More
Acadian redfish hiding at the base of a primnoid coral This digital video clip originates from the project entitled The Ecology of Deep Water Octocorals off the Northeast Coast of the United More
Colorful community of Acadian redfish, anemones, and soft corals on boulder habitat lobster sneaking up With a quick snap of the claw, lobsters have been observed to prey upon fish like this Acadian redfish lobster trap Lobster traps on the More
The Acadian redfish (Sebastes fasciatus) is a member of the Scorpaenidae family. More
"From the Gulf of Maine, Acadian Redfish is an abundant species with a firm flesh and mild flavor. More
Acadian redfish, Sebastes fasciatus; Gulf of Maine; Key Words: Acadian redfish; Sebastes fasciatus Gulf of Maine; marine; marine life; aquatic; aquatic animal; aquatic animals; underwater; animal; animals; wildlife; sea life; seascape; seascapes; sea; fauna; wildlife; zoology; carnivore; fish; swimming; More
The Acadian redfish is classified as Sebastes fasciatus, the deepwater redfish as Sebastes mentella, the Norway redfish as Sebastes viviparus, and the golden redfish as Sebastes norvegicus. More
Acadian Redfish is a carnivorous bottom dweller, eating other fish and mollusks as well as smaller organisms. alt e-mail this page alt print this page alt More
Common names
Acadian redfish in English
acadian rockfish in English
Akadisk kungsfisk in Swedish (Svenska)
Amerikansk rødfisk in Danish (dansk)
Atlantic ocean perch in English
Chancharro in Spanish (español)
Karmazynek in Polish (polski)
Kleine roodbaars in Dutch (Nederlands)
Kleiner Rotbarsch in German (Deutsch)
Labrador redfish in English
Lesser redfish in English
Lille Rødfisk in Danish (dansk)
Litli karfi in Icelandic (Íslenska)
Lítli kongafiskur in Faroese (Føroyskt)
Lusuer in Norwegian (Norsk)
Mindre kungsfisk in Swedish (Svenska)
Norway haddock in English
Norway redfish in English
Norwegian redfish in English
Ocean perch in English
Petit sébaste in French (français)
Pikkupunasimppu in Finnish (suomen kieli)
Redfish in English
sébaste acadien in French (français)
Sébaste rose in French (français)
Vínlandskarfi in Icelandic (Íslenska)
北海平鮋 in Mandarin Chinese
北海平鲉 in Mandarin Chinese
条纹平鲉 in Mandarin Chinese
條紋平鮋 in Mandarin Chinese

Custom Search