Eschmeyer's scorpionfish
Rhinopias eschmeyeri is a Scorpionfish from the Indo-West Pacific.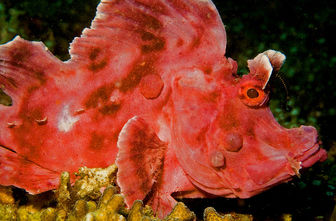 Picture of the Eschmeyer's scorpionfish has been licensed under a Creative Commons
Attribution-Share Alike
.
Original source
: Own work Author Jason Marks
Author
: Jason Marks
The Eschmeyer's scorpionfish lives in the reef-associated, marine, depth range 13 - 90 m environment.
Eschmeyer's scorpionfish has been reported from Mauritius to Sri Lanka (Lieske and Myers 1994), although I have seen specimens from the Philippines and Papua New Guinea and have observed it in Indonesia. More
Eschmeyer's scorpionfish has been reported from Mauritius to Sri Lanka, but the specimen that was sent to me by Julian Sprung was apparently from the Philippines. More
Eschmeyer's scorpionfish (Rhinopias eschmeyeri): Detail of dorsal fin which is not incised Weedy scorpionfish (Rhinopias frondosa) purple variant Weedy scorpionfish (Rhinopias frondosa) yellow variant Weedy scorpionfish More
Common names
Borokasago in Japanese (日本語)
Eschmeyer's scorpionfish in English
Laffe in Creole, French
Laffe in Creoles and Pidgins, French
Laffe in French (français)
Loou in Austronesian (Other)
Loou in Carolinian
Peuloog-skerpioenvis in Afrikaans
Poisson scorpion feuillu in French (français)
Poisson-scorpion d'Eschmeyer in French (français)
Poisson-scorpion des algues in French (français)
popeyed scorpionfish in English
Rhinopias d' escheyemer in French (français)
Rhinopias d'Eschmeyer in French (français)
Weedy scorpionfish in English
伊豆鮋 in Mandarin Chinese
伊豆鲉 in Mandarin Chinese
前鰭吻鮋 in Mandarin Chinese
前鳍吻鲉 in Mandarin Chinese
埃氏吻鮋 in Mandarin Chinese
埃氏吻鲉 in Mandarin Chinese

Custom Search