European flounder
The European flounder is oval in shape and is usually right-eyed.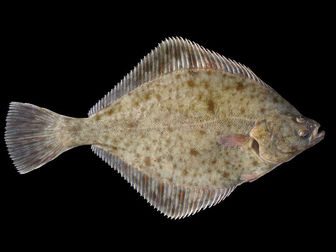 Picture of the European flounder has been licensed under a Creative Commons
Attribution-Share Alike
.
Original source
: Own work
Author
: Hans Hillewaert
The European flounder lives in the demersal, catadromous, freshwater, brackish, marine, pH range: 7.5 - 8.2, depth range 1 - 100 m environment.
The European Flounder (Platichthys flesus) is a flatfish of Northern European coastal waters. It is a well-known food fish. Description - The European flounder is oval in shape and is usually right-eyed. More
European flounder (Platichthys flesus) were chronically exposed to TBBPA; (105 days) and HBCD (78 days), in a wide range including environmentally relevant concentrations. TBBPA was administered via the water, whereas HBCD was administered in food and sediment, or in sediment alone. More
posterior region of the intestine of the European flounder at 1 More
the posterior region of the intestine of the European flounder at different pH values. The pH of the intestinal lumen changed over the experimental period; see text for details. Values are means + S.E.M. (N=5 More
Newly discovered European flounder is latest evidence of need for legislation WASHINGTON More
European flounder proved to be a good choice for the main purpose of our laboratory experiments: filling the gap between correlative relationships (field surveys) and circumstantial evidence (semi-field study) on one side and causal relationships (laboratory studies) on the other side, linking chemical pollution and diseases in More
European flounder CYP 1A genes and have been shown to be required for inducer-dependent transcription. Eight XRE consensus sequences have been identified in the European flounder promoter, of which four appear to be functional (Lewis et al., 2004Go). More
the European flounder NHE1 (Genbank accession no. AJ006918). The remaining upstream fragment of the open reading frame (ORF) was obtained by using primer pair 3 (designed from the fragment obtained with primer pair 2 and the start of the trout beta -NHE1 ORF). More
Common names
Baltic flounder in English
Baltiiskaya rechnaya kambala in Russian (русский язык)
Black Sea flounder in English
Bot in Catalan (Català)
Bot in Dutch (Nederlands)
Bot (vis) in Dutch (Nederlands)
Butt in English
Butt in German (Deutsch)
Butte in German (Deutsch)
Cambula in Romanian (română)
Cambula in Rumanian
Cambula de liman in Rumanian
Chamatída in Greek (Ελληνικά)
Chamatída in Greek, Modern (1453)
Cheimara in Greek (Ελληνικά)
Cheimara in Greek, Modern (1453)
Chernomorskaya kambala in Russian (русский язык)
Derepisi baligi in Turkish (Türkçe)
Derepisisi in Turkish (Türkçe)
Derepisisi baligi in Turkish (Türkçe)
Derepisisi balığı in Turkish (Türkçe)
Elbbutt in German (Deutsch)
European flounder in English
European flounder (German: Flunder) in English
fanken in Breton (brezhoneg)
Fankenn in Breton (brezhoneg)
Fasi in Greek (Ελληνικά)
Fasi in Greek, Modern (1453)
Flet in French (français)
flet commun in French (français)
Flet d'Europe in French (français)
Flinder in German (Deutsch)
Flinger in German (Deutsch)
Flounder in English
Flounder in Ukrainian (українська мова)
Fluke in English
Flunder in German (Deutsch)
Flundra in Icelandic (Íslenska)
Flundra in Swedish (Svenska)
Flynder in Danish (dansk)
Gemeine Flunder in German (Deutsch)
Goldflunder in German (Deutsch)
Graubutt in German (Deutsch)
Iverak in Croatian (Hrvatski)
Iverak in Serbian (српски језик)
Iverka in Slovene
Iverka in Slovenian (slovenščina)
Jandroga in Serbian (српски језик)
Jezik in Slovene
Jezik in Slovenian (slovenščina)
Kalkan in Croatian (Hrvatski)
Kampela in Finnish (suomen kieli)
Karei in Japanese (日本語)
Latesiol in Italian (Italiano)
Leadhbhóg in Gaelic, Irish
Leadhbhóg in Irish (Gaeilge)
Lest in Estonian (Eesti keel)
Liehbage in Manx (Ghaelg)
Linguata in Italian (Italiano)
Linguata pianusa in Italian (Italiano)
lleden fach in we
Morskaja kambala in Russian (русский язык)
Mud flounder in English
North Atlantic flounder in English
Ósaskrubba in Faroese (Føroyskt)
Palaria steddara in Italian (Italiano)
Pansona in Italian (Italiano)
Pasara in Croatian (Hrvatski)
Passara in Italian (Italiano)
Passarella in Italian (Italiano)
Passarello in Italian (Italiano)
Passariello in Italian (Italiano)
Passarin in Italian (Italiano)
Passaru in Italian (Italiano)
Passaua in Italian (Italiano)
Passera in Italian (Italiano)
Passera nera in Italian (Italiano)
Passera pianuzza in Italian (Italiano)
Passera planuzza in Italian (Italiano)
Passerino in Italian (Italiano)
Passira in Italian (Italiano)
Passr in Italian (Italiano)
Patruça in Portuguese (Português)
Petruca in Portuguese (Português)
Pianuzza in Italian (Italiano)
Pisia in Bulgarian (български език)
Plana in Catalan (Català)
Plana d'Itàlia in Catalan (Català)
Platáz bradavicnatá in Czech (česky)
Platesa malá in Slovak (slovenčina)
Platichthys flesus in Italian (Italiano)
Platija in Spanish (español)
Platija europea in Spanish (español)
Platixa in Spanish (español)
Platka in Croatian (Hrvatski)
Platýs bradavicnatý in Czech (česky)
Platýs malý in Czech (česky)
Rechnaja kambala in Russian (русский язык)
rechnaya kambala in Russian (русский язык)
River flounder in English
Rummo in Italian (Italiano)
Sandbutt in German (Deutsch)
Skrubba in Swedish (Svenska)
Skrubbe in Danish (dansk)
Skrubbe in Norwegian (Norsk)
Skrubbe in Norwegian Nynorsk (Norsk nynorsk)
Skrubbflundra in Swedish (Svenska)
Skrubbskädda in Swedish (Svenska)
Solha in Portuguese (Português)
solha das pedras in Portuguese (Português)
Solha das pedras patrúcia in Portuguese (Português)
Solha-das-pedras in Portuguese (Português)
Solla in Italian (Italiano)
Solla in Spanish (español)
Stornia in Polish (polski)
Strombutt in German (Deutsch)
Strufbutt in German (Deutsch)
Struffbutt in German (Deutsch)
Struvbutt in German (Deutsch)
Ushojze e zeze in Albanian (Shqip)
Wattbutt in German (Deutsch)
Weserbutt in German (Deutsch)
white fluke in English
Zlatopjeg in Croatian (Hrvatski)
Φασί in Greek (Ελληνικά)
Φασί in Greek, Modern (1453)
Χειμάρα in Greek (Ελληνικά)
Χωματίδα in Greek (Ελληνικά)
речная камбала in Russian (русский язык)
پهن‌ماهی in Persian (‫فارسی)
川鰈 in Mandarin Chinese
川鲽 in Mandarin Chinese
河鰈 in Mandarin Chinese
河鲽 in Mandarin Chinese

Custom Search