Slender sole
The slender sole, Lyopsetta exilis, is a flatfish of the family Pleuronectidae.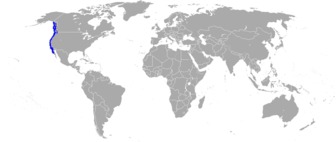 Picture of the Slender sole has been licensed under a Creative Commons
Attribution-Share Alike
.
Original source
: Own work Author sjc196
Author
: sjc196
The Slender sole lives in the bathydemersal, marine, depth range 25 - 800 m environment.
Sediment resuspension by slender sole (Lyopsetta exilis) (Sequence of still image, html) A slender sole feed on zooplankton and disturbed by a crab (¹,, 5MB) Text Box: A Slender sole on Beggiatoa mat Sampling suspension feeders in situ More
Slender soles, Lyopsetta exilis may try and catch zooplanktonprevious JavaScript required to view this content. More
Slender Sole, Lyopsetta exilis Multimedia Use Policy ·Graphics, videos, and audio samples may be used for non-profit purposes provided that you acknowledge VENUS/University of Victoria. More
Slender sole Lyopsetta exilis Dover sole Microstomus pacificus English sole Pleuronectes vetulus Sand sole Psettichthys melanosticus Pacific sanddab Citharichthys sordidus Speckled sanddab Citharichthys stigmaeus C-O sole Pleuronichthys coenosus Pile perch Rhacochilus vacca More
Common names
Ihémek'we in Salish
Platija delgada in Spanish (español)
platija flaca in Spanish (español)
slender sole in English
Stornia wysmukla in Polish (polski)
松鰈 in Mandarin Chinese
松鲽 in Mandarin Chinese

Custom Search