Blackback butterflyfish
This fish grows up to 18 cm long, and may live for up to 20 years.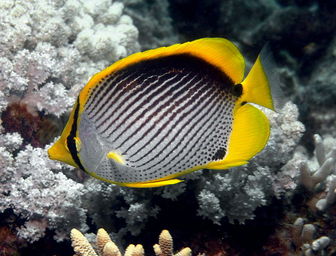 Picture of the Blackback butterflyfish has been licensed under a Creative Commons
Attribution
.
Author
: Leonard Low from Australia This is a retou
The Blackback butterflyfish lives in the reef-associated, non-migratory, marine, depth range 4 - 20 m environment.
The Black-backed Butterflyfish or blackback butterflyfish Chaetodon melannotus, is a species of butterflyfish (family Chaetodontidae). It ranges from the Red Sea and East Africa to Samoa, to southern Japan and throughout Micronesia. This fish grows up to 18 cm (c. More
The Blackback Butterflyfish eats a variety of meaty preparations that should incorporate a vitamin or color enhancing food to keep its colors crisp. It eats soft corals in the wild. Photo courtesy of T.F.H. Publications, publishers of the Burgess Atlas. More
Blackback ButterflyfishChaetodon melannotus = Facts max size: 18. More
Name: Blackback Butterflyfish (Chaetodon melannotus) Family: Chaetodontidae Range: Indo-Pacific Size: Up to 6 inches Diet: Carnivore Tank Set-up: Marine: Coral or rock, plants Reef Compatible: No Tank Conditions: 72-78°F; sg 1.020-1.025; pH 8.1-8. More
Blackback Butterflyfish - Chaetodon Melannotus - Photo by: Ken Knezick / Island Dreams Return to Island Dreams' Photography Gallery More
Blackback Butterflyfish Chaetodon melannotus From $18.95 Blue Stripe Butterflyfish Chaetodon fremblii From $89.95 Burgess' Butterflyfish Chaetodon burgessi From $109.95 Copperband Butterflyfish Chelmon rostratus From $24. More
Blackback butterflyfish (Chaetodon melannotus) Author: Roberto Sozzani mail to home Description: Blackback butterflyfish (Chaetodon melannotus) Length: up to 15 cm, Usually seen between 1 and 25 metres depth, Photo taken in Komodo Is, More
Image: Blackback Butterflyfish, Chaetodon melannotus - Add comment Add tags Blackback Butterflyfish, Chaetodon melannotus Description A Blackback Butterflyfish at depth of 18 m, Pixie Gardens (Ribbon #9), Great Barrier Reef, Queensland, More
Common names
Akebono-chôchô-uo in Japanese (日本語)
Alibang-bang in Davawenyo
Alibang-bang in Tagalog
Alibang-bang in Visayan
Alibangbang in Cebuano
Alibangbang in Kagayanen
Alibangbang in Tagalog
Alibangbang in Waray-waray
Bagang in Malay (bahasa Melayu)
Black backed butterflyfish in French (français)
Black-back butterflyfish in English
Black-backed butterfly fish in English
Black-backed butterflyfish in English
Black-backed coralfish in English
Blackback butterflyfish in English
blackbacked butterflyfish in English
Cá Bu?m hai ch?m in Vietnamese (Tiếng Việt)
Cá Bướm hai chấm in Vietnamese (Tiếng Việt)
Chétodon à dos noir in French (français)
daliga ragutu in Fijian (vosa Vakaviti)
Dhon bibi in Maldivian
Kalaykalay in Tagbanwa Calamian
Kapiged in Ilokano
Kepe kepe in Malay (bahasa Melayu)
Papillon à dos noir in French (français)
Paru-paro in Tagalog
Paru-parong dagat in Tagalog
Pavillon in Creole, French
Pavillon in Creoles and Pidgins, French
Pavillon à dos noir in French (français)
Sortrygget fanefisk in Danish (dansk)
Swartrug-vlindervis in Afrikaans
Tifitifi-laumoli in Samoan (gagana fa'a Samoa)
Tifitifi-pa'ipa'i in Samoan (gagana fa'a Samoa)
Ustnik ciemnopregi in Polish (polski)
ކަޅަލި ބިބީ in Divehi (‫ދިވެހި)
アケボノチョウチョウウオ in Japanese (日本語)
太阳蝶 in Mandarin Chinese
太陽蝶 in Mandarin Chinese
黑背蝴蝶魚 in Mandarin Chinese
黑背蝴蝶鱼 in Mandarin Chinese

Custom Search