Line butterflyfish
Lined butterflyfish may grow up to 30 cm long, which among Chaetodon is matched only by the Saddle Butterflyfish .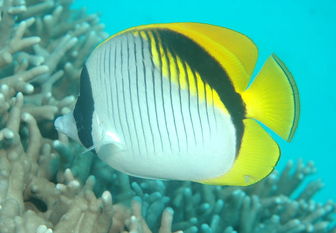 Picture of the Line butterflyfish has been licensed under a Creative Commons
Attribution
.
Original source
: Flickr Author Leonard Low from Australia
Author
: Leonard Low from Australia
The Line butterflyfish lives in the reef-associated, marine, depth range 2 - 171 m environment.
Red Line Butterflyfish Starting at $95 Two Spot Goby Starting at $18 Rippled Coral Goby Starting at $16 Diana's Hogfish Starting at $26 More
Surf Parrotfish (Scarus rivulatus), Line Butterflyfish (Chaetodon lineolatus), Whitley's Sergeants (Abudefduf whitleyi) and the Lemon Damsel (Pomacentrus moluccensis) The Faviid coral Platygyra sp. More
Line ButterflyfishChaetodon lineolatus = Facts max size: 30. More
Line Butterflyfish, Lined Butterfly, Lined Butterflyfish, New-Moon Coralfish Common Names in French: Chétodon Strié, Ch�todon Stri�, Papillon Jaune Common Names in Hawaiian: Kikakapu Common Names in Ilokano: Kapiged More
Common Names: Kapiged, 細紋蝴蝶魚, Line butterflyfish, Papillon jaune, Chétodon strié, Paru-paro, Bagang, Kepe putih, Lined butterfly, New-moon coralfish, 细纹蝴蝶鱼, Alibang-bang, 紋身蝴蝶魚, Nise-furai-chô-chô-uo, Tifitifi-laui'a, Paru-parung dagat, Paraharaha, Gestreepte vlindervis, Pavillon, Ustnik smuzkowy, Alibangbang, 黑影蝶, Linjet fanefisk, lined butterflyfish, 纹身蝴蝶鱼 More
Common names
Alibang-bang in Davawenyo
Alibang-bang in Tagalog
Alibang-bang in Visayan
Alibangbang in Cebuano
Alibangbang in Kagayanen
Alibangbang in Tagalog
Alibangbang in Waray-waray
Bagang in Malay (bahasa Melayu)
Chétodon strié in French (français)
Gestreepte vlindervis in Afrikaans
Kapiged in Ilokano
Kepe putih in Malay (bahasa Melayu)
Kikakapu in Hawaiian
Line butterflyfish in English
Lined butterfly in English
lined butterflyfish in English
Linjet fanefisk in Danish (dansk)
New-moon coral-fish in English
New-moon coralfish in English
Nise-furai-chô-chô-uo in Japanese (日本語)
Papillon à lignes in French (français)
Papillon jaune in French (français)
Paraharaha in Tahitian (Reo Mā`ohi)
Paru-paro in Tagalog
Paru-parung dagat in Tagalog
Pavillon in Creole, French
Pavillon in Creoles and Pidgins, French
Tifitifi-laui'a in Samoan (gagana fa'a Samoa)
tivitivi in Fijian (vosa Vakaviti)
Ustnik smuzkowy in Polish (polski)
紋身蝴蝶魚 in Mandarin Chinese
細紋蝴蝶魚 in Mandarin Chinese
纹身蝴蝶鱼 in Mandarin Chinese
细纹蝴蝶鱼 in Mandarin Chinese
黑影蝶 in Mandarin Chinese

Custom Search