Cross-stripe butterfly
Length is up to 23 cm .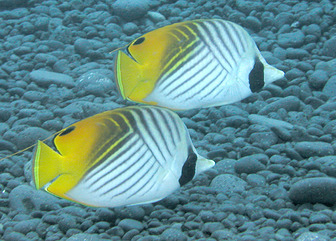 Picture of the Cross-stripe butterfly has been licensed under a Creative Commons
Attribution-Share Alike
.
Original source
: Originally from en.wikipedia; description page is/was here. Author Original uploader wa
Author
: Original uploader was Aquaimages at en.wikipedia Permission (
The Cross-stripe butterfly lives in the reef-associated, non-migratory, marine, depth range 1 - 35 m environment.
Cross-stripe ButterflyChaetodon auriga = Facts max size: 23. More
butterfliefish, cross-stripe butterfly, threadfin coralfish ou whip butterflyfish, en danois : filament-fanefisk, en espagnol : mariposa de aleta ribeteada, mariposa de aleta en hilo ou mariposa auriga, en hongrois : szemfoltos pillangóhal et en suédois : flaggfisk. More
Cross-Stripe Butterfly, Diagonal Butterflyfish, Threadfin, Threadfin Anthias, Threadfin Butterfly, Threadfin Butterflyfish, Threadfin Coralfish, Whip Butterflyfish Common Names in French: Papillon Jaune Common Names in Fw�i: Khaar Common Names in Fwâi: More
Common names
Ababang amariyu in Chamorro (Chamoru)
Alibang-bang in Davawenyo
Alibang-bang in Surigaonon
Alibang-bang in Tagalog
Alibang-bang in Visayan
Alibang-bang in Waray-waray
Alibangbang in Cebuano
Alibangbang in Kagayanen
Alibangbang in Tagalog
Alibangbang in Waray-waray
Bagang in Malay (bahasa Melayu)
Baro-baro in Visayan
Baro-baro in Waray-waray
Boray-boray in Visayan
Butterflyfish in English
Cá chim nàng dào d? in Vietnamese (Tiếng Việt)
Cá chim nàng đào đỏ in Vietnamese (Tiếng Việt)
Cá Nàng dào d? in Vietnamese (Tiếng Việt)
Cá Nàng đào đỏ in Vietnamese (Tiếng Việt)
Cross-stripe butterfly in English
Dalang bukid in Tagalog
daliga ragutu in Fijian (vosa Vakaviti)
Diagonal butterflyfish in English
Draadvin-vlindervis in Afrikaans
Dribob in Marshall
Dribob in Marshallese (Kajin M̧ajeļ)
Fähnchen-Falterfisch in German (Deutsch)
Filament-fanefisk in Danish (dansk)
Flaggfisk in Swedish (Svenska)
Handupholimas in Mahl
I'usamasama in Samoan (gagana fa'a Samoa)
Kaha mandai in Malay (bahasa Melayu)
Kepe auriga in Malay (bahasa Melayu)
Khaar in Fwâi
Kikakapu in Hawaiian
Kikorokoro in Swahili (Kiswahili)
Kitatange in Swahili (Kiswahili)
Korai in Tuamotuan
Kulibangbang in Bikol
Kulibangbang in Ilokano
Kulibangbang in Visayan
Ligeriger in Austronesian (Other)
Ligeriger in Carolinian
Mariposa in sp
Mariposa de aleta ribeteada in Spanish (español)
Nitchatoplavnikovaya ryba-babochka in Russian (русский язык)
Pakkikkadiya in Malayalam (മലയാളം)
Papillon cocher in French (français)
Papillon jaune in French (français)
Paraharaha in Tahitian (Reo Mā`ohi)
Paru-parang dagat in Tagalog
Paru-paro in Tagalog
Paru-paru in Tagalog
Paru-parung dagat in Tagalog
Pavillon in Creole, French
Pavillon in Creoles and Pidgins, French
Poisson-papillon jaune in French (français)
Si'u in Samoan (gagana fa'a Samoa)
Tamparay in Bikol
Tapay-tapay in Visayan
Tapel in Other
Te ibaba in Gilbertese
Te ibaba in Kiribati
Threadfin in English
Threadfin butterfly in English
threadfin butterflyfish in English
Threadfin coralfish in English
Tikorekore in Other
tivitivi in Fijian (vosa Vakaviti)
Toge-chô-chô-uo in Japanese (日本語)
Ustnik pawik in Polish (polski)
Whip butterflyfish in English
പക്കി ക്കടിയ  in Malayalam (മലയാളം)
പക്കിക്കടിയന് in Malayalam (മലയാളം)
トゲチョウチョウウオ in Japanese (日本語)
丝蝴蝶鱼 in Mandarin Chinese
人字蝶 in Mandarin Chinese
扬旛蝴蝶鱼 in Mandarin Chinese
揚旛蝴蝶魚 in Mandarin Chinese
白刺蝶 in Mandarin Chinese
絲蝴蝶魚 in Mandarin Chinese
가시나비고기 in Korean (한국어)

Custom Search