Lasiognathus waltoni
The closest relative of Lasiognathus is Thaumatichthys, which also has enlarged and hinged premaxillaries, escal denticles, and a branched upper operculum.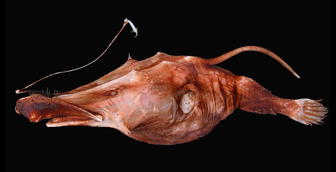 Picture of the Lasiognathus waltoni has been licensed under a Creative Commons
Attribution
.
Original source
: Theodore W. Pietsch, University of Washington
Author
: see above
The Lasiognathus waltoni lives in the bathypelagic, marine, depth range 0 - 1350 m environment.
* Lasiognathus waltoni This species is characterized by a membranous anterior crest on its escal bulb, and an elongated, cylindrical distal escal appendage without a prolongation at the tip. More
Species Summary: Lasiognathus waltoni, You can sponsor this page, ... http://www.fishbase.org/Summary/SpeciesSummary.cfm?ID=50781%09&genusname=Lasiognathus&speciesname=waltoni www.fishbase.org/Summary/SpeciesSummary.cfm?ID=50781%09&genusname=Lasiognathus&speciesname=waltoni: Similar pages Lasiognathus ... Lasiognathus saccostoma Regan, 1925 Lasiognathus ancistrophorus Maul, 1962; (synonym) Lasiognathus waltoni Nolan & Rosenblatt, 1975 24.4.2004 (4). ... More
Common names
华氏毛颌鮟鱇 in Mandarin Chinese
华氏毛颌鮟鱇 in Unknown
華氏毛頜鮟鱇 in Mandarin Chinese
華氏毛頜鮟鱇 in Unknown

Custom Search