Lasiognathus beebei
The closest relative of Lasiognathus is Thaumatichthys, which also has enlarged and hinged premaxillaries, escal denticles, and a branched upper operculum.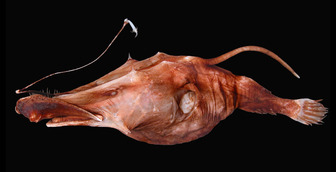 Picture of the Lasiognathus beebei has been licensed under a Creative Commons
Attribution
.
Original source
: Theodore W. Pietsch, University of Washington
Author
: see above
The Lasiognathus beebei lives in the bathypelagic, marine, depth range 0 - 1100 m environment.
* Lasiognathus beebei This species is distinguishable by its hooks being placed on a short, transverse, fan-shaped distal escal appendage as opposed to the elongated, cylindrical appendage of all other species. More
Common names
毕比氏毛鲶 in Mandarin Chinese
毕比氏毛鲶 in Unknown
畢比氏毛鯰 in Mandarin Chinese
畢比氏毛鯰 in Unknown

Custom Search