Chihuahua chub
The Charalito Chihuahua is a species of ray-finned fish in the Cyprinidae family.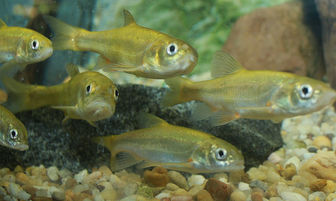 Picture of the Chihuahua chub has been licensed under a Creative Commons
Attribution
.
Original source
: originally posted to Flickr as Charalito Chihuahua
Author
: Brian Gratwicke Permission (
The Chihuahua chub lives in the benthopelagic, freshwater environment.
The Chihuahua chub is classified as Critically Endangered (CR), facing an extremely high risk of extinction in the wild.

Cyprinidae The Chihuahua chub averages 5-6 inches in length at maturity but may reach 12 inches. Typical of the genus Gila, the origin of the dorsal fin is behind that of the pelvic fins. The number of scales along the lateral line ranges from 67 to 78. More
Emory's "trout" were actually Chihuahua chub, a kind of fish unique to the Mimbres River and the once-connected Lago de Guzman basin in northern Mexico. (The Mimbres boasts no native trout species. More
The Chihuahua chub has been reported to be trout-like (opportunistic carnivore) in its feeding behavior, taking terrestrial insects, aquatic invertebrates, and some fish (USFW 1986). More
The Chihuahua chub is listed as threatened without critical habitat. More
Ten pairs of Chihuahua chub, a native fish of New Mexico once thought to be extinct, were spawned at Dexter National Fish Hatchery and Technology Center (Center) in April. A group of Chihuahua chub were brought to the Center in 1979 and have been there ever since. More
    Chihuahua chub: Field Supervisor, Attention 5-year Review, U.S.  Fish and Wildlife Service, New Mexico Ecological Services Field Office,  2105 Osuna Road, NE., Albuquerque, NM 87113. The office phone number is  505-346-2525. Alternatively, you may send information via e-mail to  marilyn_myers@fws.gov . More
of Chihuahua chub from limited habitats of the Laguna Bustillos Basin. In the Guzmán basin, Chihuahua chub may survive only in remote reaches of the rios Santa Clara, Santa Maria, Casas Grandes, and Piedras Verdes. More
Mimbres is not a tributary of the Gila, nor are Chihuahua chub found in the Gila River. So much for scientific accuracy! The little fish with the mistaken scientific name were very nearly never seen again. More
Common names
carpa de Chihuahua in Spanish (español)
Charalito chihuahua in English
Charalito chihuahua in Spanish (español)
Chihuahua chub in English
Gila černavá in Czech (česky)
Gila nigrescens in Catalan (Català)
暗骨尾魚 in Mandarin Chinese
暗骨尾鱼 in Mandarin Chinese

Custom Search