Dwarf danio
In the wild, the Spotted Danio is found in rivers in a tropical climate and prefer water with a 6.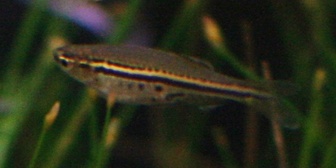 Picture of the Dwarf danio has been licensed under a
GFDL
Original source
: self-made. 400D+50/1.4
Author
: Lerdsuwa
Permission
: GNU Free Documentation License
The Dwarf danio lives in the benthopelagic, freshwater, pH range: 6.5 - 7.0, dH range: 5 - 12 environment.
The Spotted Danio or Dwarf Danio (Danio nigrofasciatus) is a tropical fish belonging to the minnow family (Cyprinidae). Originating in northern Myanmar, this fish is sometimes found in community tanks by fish keeping hobbyists. It grows to a maximum length of 1.5 inches (3.7 cm). More
Dwarf danio ( common name ) let's test your knowledge! Danio nigrofasciatus ( fish name )slovensky , français Share pictures of your fish! Upload them now! * Maximum size in aquariums (min-max): 3 - 4 cm ( More
Common names
Danie tečkovaná in Czech (česky)
Danio kropkowany in Polish (polski)
Danio nigrofasciatus in Catalan (Català)
Danio tečkované in Czech (česky)
Dánio tmavopruhé in Czech (česky)
Dwarf danio in English
Pettyesúszójú dánió in Hungarian (Magyar)
Plettet danio in Danish (dansk)
Prickdanio in Swedish (Svenska)
Spotted Danio in English
Täpläseeprakala in Finnish (suomen kieli)
Tüpfelbärbling in German (Deutsch)
黑带斑马鱼 in Mandarin Chinese
黑帶斑馬魚 in Mandarin Chinese

Custom Search