River hatchetfish
The river hatchetfish is a schooling species best kept in groups of five or more that spends most of its time in the top-level of the water where it searches for food.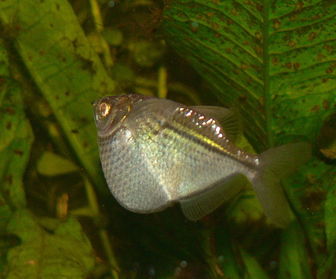 Picture of the River hatchetfish has been licensed under a
GFDL
Original source
: Originally from en.wikipedia; description page is/was here. Author Original uploader was
Author
: Original uploader was Neale Monks at en.wikipedia Permission (
Permission
: GNU Free Documentation License
The River hatchetfish lives in the pelagic, freshwater, pH range: 6.0 - 7.0, dH range: 15 environment.
Silver Hatchetfish, River Hatchetfish, Common Hatchetfish, Black-Lined Hatchetfish Sexing - Unknown Tank compatibility - More
Geographic range: River hatchetfish live in South America. River hatchetfish can swim very fast to rise out of the water and catch insects flying above the water level. (Illustration by Patricia Ferrer. Reproduced by permission. More
The Marbled Hatchetfish or River Hatchetfish, was described by Günther in 1864. They are found in South America throughout the Amazon River basin, Lower, middle and upper, as well as the Caqueta River in Colombia. More
The river hatchetfish is a schooling species best kept in groups of five or more that spends most of its time in the top-level of the water where it searches for food. These fish are peaceful towards other fishes, but frequently bicker among themselves. More
River hatchetfish; Tropical hatchetfish; Spotfin hatchetfish; Pygmy hatchetfish; Silver hatchetfish; River hatchetfish; Marine hatchetfish; Marbled hatchetfish; Giant hatchetfish; Freshwater hatchetfish; Common hatchetfish; Blackwinged hatchetfish; Naked mole rat; Naked-faced spiderhunter; Greater naked-tailed armadillo; Naked star-gazer; Atlantic silver hatchetfish; More
Common names
Agochibi chiba in Creoles and Pidgins, English
Agochibi chiba in Djuka
Agosibi siba in Creoles and Pidgins, English
Agosibi siba in Djuka
Almindelig øksefisk in Danish (dansk)
Borboleta in Portuguese (Português)
Common hatchetfish in English
Elépatakawi in South American Indian (Other)
Elépatakawi in Wayana
Gemeiner Silberbeilbauchfisch in German (Deutsch)
Kalimasaya in Oyampi
Kalimasaya in South American Indian (Other)
Kamisalayan in Oyampi
Kamisalayan in South American Indian (Other)
Pechito in Spanish (español)
Pechito plateado de raya negra in Spanish (español)
Poisson hachette argenté in French (français)
Polomochimbo in Carib
Polomochimbo in Galibi
Polomosimbo in Carib
Polomosimbo in Galibi
Poson rach in Creole, French
Poson rach in Creoles and Pidgins, French
Pstrazen srebrzysty in Polish (polski)
River hatchetfish in English
Sapopema in Portuguese (Português)
Silber beilbauchfisch in German (Deutsch)
Silberbeilbauchfisch in German (Deutsch)
Silver hatchet fish in English
Silver hatchetfish in English
Sternicla in Spanish (español)
Tapparakala in Finnish (suomen kieli)
Timbibé in Creoles and Pidgins, English
Timbibé in Saramaccan
Voador in Portuguese (Português)
Volador in Spanish (español)
Yaya gro tjñ in Creoles and Pidgins, French
Yaya gro tjò in Creole, French
Yaya gro tjò in Creoles and Pidgins, French
Yaya hache in Creole, French
Yaya hache in Creoles and Pidgins, French
Yaya rach in Creole, French
Yaya rach in Creoles and Pidgins, French
胸斧魚 in Mandarin Chinese
胸斧鱼 in Mandarin Chinese

Custom Search