Lobetoothed piranha
Pygopristis has pentacuspid teeth and a middle cusp that is usually only slightly larger than the other cusps.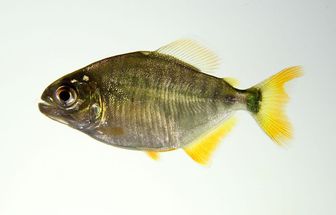 Picture of the Lobetoothed piranha has been licensed under a Creative Commons
Attribution
.
Original source
: Flickr: Serrasalmidae Pygopristis denticulata
Author
: Clinton & Charles Robertson Permission (
The Lobetoothed piranha lives in the benthopelagic, freshwater environment.
* Lobetoothed Piranha (Pygopristis denticulata) - Images. * Lobetoothed Piranha (Pygopristis denticulata) - Text. * Marbled Caribito (Pristobrycon maculipinnis) - Text and Images. More
Lobetoothed Piranha See Pygopristis denticulata Lobocheilos bo (Popta 1904) Lobocheilos davisi (Fowler 1937) Lobocheilos delacouri More
Common names
Kultapiraija in Finnish (suomen kieli)
Lobetoothed piranha in English
Palometa caribe in Spanish (español)
Pilin in Creole, French
Pilin in Creoles and Pidgins, French
Pirambeba in English
Piranha in Portuguese (Português)
Piray in Creole, French
Piray in Creoles and Pidgins, French
Pireng in Creole, French
Pireng in Creoles and Pidgins, French
Poson sizo in Creole, French
Poson sizo in Creoles and Pidgins, French
Pygopristis denticulata in Italian (Italiano)
小齒鋸脂鯉 in Mandarin Chinese
小齿锯脂鲤 in Mandarin Chinese
尻鋸脂鯉 in Mandarin Chinese
尻锯脂鲤 in Mandarin Chinese

Custom Search