B-a tetra
An aquarium favourite for over 60 years, the Buenos Aires Tetra is a metallic coloured fish, with red tipped fins and a black marking on the dorsal fin.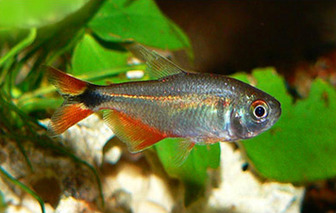 Picture of the B-a tetra has been licensed under a Creative Commons
Attribution-Share Alike
.
Original source
: Own work.
Author
: Nick Sc.
The B-a tetra lives in the benthopelagic, freshwater environment.
tetra Arnoldichthys spilopterus B-A tetra Hyphessobrycon anisitsi Banded tetra Astyanax aeneus Bandtail tetra Moenkhausia dichroura Barred glass tetra Phenagoniates macrolepis Bass tetra Hemigrammus rodwayi Beacon tetra Hemigrammus ocellifer Belgian flag tetra Hyphessobrycon heterorhabdus Black darter tetra Poecilocharax weitzmani Black morpho tetra More
38 B-a Tetra - Hyphessobrycon anisitsi (Eigenmann, 1907) B-liner - Rhomboplites aurorubens (Cuvier, 1829) B-spot Cardinalfish - Gymnapogon urospilotus Lachner, 1953 Babagarei - Microstomus achne (Jordan & Starks, 1904) babassu - Orbignya barbosiana Burret Babault's Mouse Shrew - Myosorex babaulti Heim de More
B-A tetra Hyphessobrycon anisitsi Banded tetra Astyanax aeneus Bandtail tetra Moenkhausia dichroura Barred glass tetra Phenagoniates macrolepis Bass tetra Hemigrammus rodwayi More
Common names
B-A tetra in English
buenos aires tetra in English
Buenos Aires-tetra in Swedish (Svenska)
Diamond spot characin in English
Flagtetra in Danish (dansk)
Hyphessobrycon anisitsi in Catalan (Català)
Keltakongontetra in Finnish (suomen kieli)
Lipputetra in Finnish (suomen kieli)
Mojarra in Spanish (español)
Norsk flaggtetra in Norwegian (Norsk)
Rautenflecksalmler in German (Deutsch)
Red cross fish in English
Schwarzbandsalmler in German (Deutsch)
Tetra in English
Tetra-gonopter in Russian (русский язык)
Zwinnik ogonopregi in Polish (polski)
尾紋半線脂鯉 in Mandarin Chinese
尾纹半线脂鲤 in Mandarin Chinese
恩氏魮脂鯉 in Mandarin Chinese
恩氏魮脂鲤 in Mandarin Chinese
紅尾魮脂鯉 in Mandarin Chinese
红尾魮脂鲤 in Mandarin Chinese

Custom Search