Fire neon
The glowlight is a medium size tetra growing to 4 to 5 cm , notably larger than both neon tetras and cardinal tetras.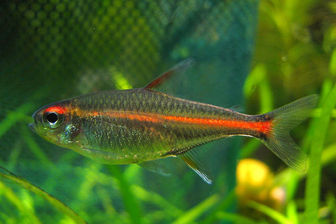 Picture of the Fire neon has been licensed under a Creative Commons
Attribution
.
Original source
: Tetra_Glowlight.jpg
Author
: Tetra_Glowlight.jpg: gonzalovalenz
The Fire neon lives in the benthopelagic, freshwater, pH range: 6.0 - 8.0, dH range: 5 - 12 environment.
Nothing known about the Fire neon
Common names
Eritrozonus in Russian (русский язык)
Fire neon in English
Glo-lite tetra in English
Glödbandstetra in Swedish (Svenska)
Glow light in English
glowlight tetra in English
Glødebåndstetra in Norwegian (Norsk)
Glødelystetra in Danish (dansk)
Glühlichtsalmler in German (Deutsch)
Hemigrammus erythrozonus in Catalan (Català)
Néon rose in French (français)
Rubiinitetra in Finnish (suomen kieli)
Tetra žiarivá in Slovak (slovenčina)
Vuurneon in Dutch (Nederlands)
Zwinnik jarzeniec in Polish (polski)
紅帶半線脂鯉 in Mandarin Chinese
紅帶半線脂鯉 in Unknown
红带半线脂鲤 in Mandarin Chinese
红带半线脂鲤 in Unknown

Custom Search