Bonnet hammerhead
Characterized by a broad, smooth, spade-like head, they have the smallest cephalofoil of all Sphyrna.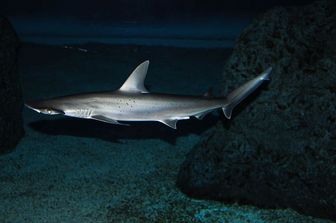 Picture of the Bonnet hammerhead has been licensed under a Creative Commons
Attribution-Share Alike
.
Original source
: Baby hammerhead shark
Author
: Valerie Everett from Indianapolis, USA
The Bonnet hammerhead lives in the reef-associated, brackish, marine, depth range 10 - 80 m , usually 10 - 25 m environment.
Bonnet hammerhead; Great hammerhead; Bonnet macaque; Hammerhead shark; Scallop hammerhead; Smooth hammerhead; Scalloped hammerhead; Dwarf bonneted bat; Western bonneted bat; Scallop hammerhead shark; Scalloped hammerhead shark; Total Images : 100 Page No. More
Bonnet Hammerhead (Sphyrna tiburo) to the Hammerhead Sharks that can reach the length of six meters. There is not a better experience than diving within the many-faced flocks of the Scalopped Hammerhead Sharks. More
Common names
Bonnet hammerhead in English
Bonnet shark in English
bonnethead in English
Bonnethead shark in English
Bonnetnose shark in English
Cabeza in sp
Cabeza de pala in Spanish (español)
Cação in Portuguese (Português)
Cação-chapéu in Portuguese (Português)
Cação-martelo in Portuguese (Português)
Cação-panã in Portuguese (Português)
Cação-pata in Portuguese (Português)
Cação-rodela in Portuguese (Português)
Cação-rudela in Portuguese (Português)
Cachona in Spanish (español)
Cachuda in Spanish (español)
Cambeva-pata in Portuguese (Português)
Cazón cabeza de pala in Spanish (español)
Chapéu-armado in Portuguese (Português)
Cornúa in Spanish (español)
Cornuda in sp
cornuda cabeza de pala in Spanish (español)
Cornuda de corona in Spanish (español)
Cornuda tiburo in Spanish (español)
Cornudo de corona in Papiamento
Huehaj in Danish (dansk)
Huehammerhaj in Danish (dansk)
Kaphamerhaai in Dutch (Nederlands)
kleiner Hammerhai in Spanish (español)
Lopatoglów in Polish (polski)
Martelo in Portuguese (Português)
Panapana in Tupi
Pata in Portuguese (Português)
Peixe-martelo in Portuguese (Português)
Pez martillo in Papiamento
Pez martillo in Spanish (español)
Requin marteau tiburo in French (français)
Requin-marteau tiburo in French (français)
Rodela in Portuguese (Português)
Rudela in Portuguese (Português)
Sarda cachona in Spanish (español)
Schaufelnasen-Hammerhai in German (Deutsch)
Shark in English
shovelhead in English
Skovelhuvad hammarhaj in Swedish (Svenska)
Tiburón in sp
Tiburón bonete del Pacífico in Spanish (español)
Tubarão panã in Portuguese (Português)
Uchiwa-shumokuzame in Japanese (日本語)
窄头双髻鲨 in Mandarin Chinese
窄頭雙髻鯊 in Mandarin Chinese

Custom Search