Asymbolus rubiginosus
Asymbolus rubiginosus is a cat shark of the family Scyliorhinidae found only off West Australia, at depths of between 25 and 540 m.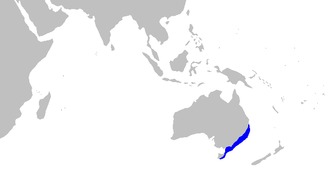 Picture of the Asymbolus rubiginosus has been licensed under a
GFDL
Original source
: Compagno, Leonard; Dando, Marc & Fowler, Sarah (2005). Sharks of the World. Collins Field Guides. ISBN 0-00-713610-2.
Author
: Chris_huh Permission (
Permission
: GNU Free Documentation License
The Asymbolus rubiginosus lives in the pelagic-oceanic, marine, depth range 25 - 540 m environment.
* Asymbolus rubiginosus Last, Gomon & Gledhill, 1999 * Variegated catshark, Asymbolus submaculatus Compagno, Stevens & Last, 1999 * Gulf catshark, Asymbolus vincenti (Zeitz, 1908) References - More
Asymbolus rubiginosus is a cat shark of the family Scyliorhinidae found only off West Australia, at depths of between 25 and 540 m. Its length is up to 39 cm. More
Asymbolus rubiginosus Last, Gomon & Gledhill, 1999 = Catalog of Fishes (gen., sp.) | ITIS | CoL Classification Elasmobranchii | Carcharhiniformes | Scyliorhinidae Synonyms ... More
Asymbolus rubiginosus Last, Gomon and Gledhill, 1999 Asymbolus submaculatus Compagno, Stevens and Last, 1999 - Variegated catshark Asymbolus vincenti (Zeitz, 1908) - Gulf catshark Atelomycterus fasciatus Compagno and Stevens, 1993 - Banded sand catshark More
Asymbolus rubiginosus Last, Gomon & Gledhill, 1999. Variegated catshark, Asymbolus submaculatus Compagno, Stevens & Last, 1999 ... en.wikipedia. More
Common names
Mácka oranžovoskvrnitá in Czech (česky)
Máčka oranžovoskvrnitá in Czech (česky)
Orange spotted catshrak in English
Rusty catshark in English
Rustyspotted catshark in English
Spotted catshark in English

Custom Search