Panama ghost catshark
Reproduction is oviparous.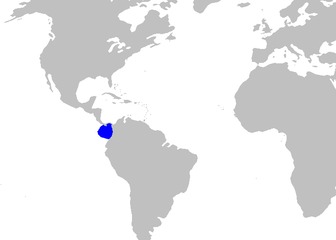 Picture of the Panama ghost catshark has been licensed under a
GFDL
Original source
: Compagno, Leonard; Dando, Marc & Fowler, Sarah (2005). Sharks of the World. Collins Field Guides. ISBN 0-00-713610-2.
Author
: Chris_huh Permission (
Permission
: GNU Free Documentation License
The Panama ghost catshark lives in the bathydemersal, marine, depth range 915 - 975 m environment.
The Panama ghost catshark, Apristurus stenseni, is a poorly-known cat shark of the family Scyliorhinidae found only off Panama, between latitudes 9° N and 2° N. Reproduction is oviparous. More
No image of Panama ghost catshark found in the Shark Database Range Map Earth Map Names Scientific: Apristurus stenseni German: Panama Geister Katzenhai More
9 inches Report Abuse The Panama Ghost Catshark is a shark of the of the Scyliorhinidae family found only off Panama. At maturity they only measure a mere 9 inches 0 points - added 5 months ago by Soundend - 8. More
Common names
Apristurus stenseni in Catalan (Català)
Holbiche nébuleuse in French (français)
Panama ghost cat shark in English
Panama ghost catshark in English
Panamaspookkathaai in Dutch (Nederlands)
Pejegato panameño in Spanish (español)
Pejegato panameo in Spanish (español)
巴拿馬光尾鯊 in Mandarin Chinese
巴拿马光尾鲨 in Mandarin Chinese

Custom Search