Spatulasnout cat shark
The spatulasnout cat shark, Apristurus platyrhynchus, is a cat shark of the family Scyliorhinidae found in the western Pacific between latitudes 35° N and 1° N.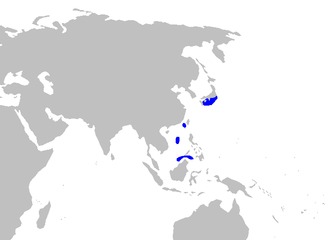 Picture of the Spatulasnout cat shark has been licensed under a
GFDL
Original source
: Compagno, Leonard; Dando, Marc & Fowler, Sarah (2005). Sharks of the World. Collins Field Guides. ISBN 0-00-713610-2.
Author
: Chris_huh Permission (
Permission
: GNU Free Documentation License
The Spatulasnout cat shark lives in the bathypelagic, marine, depth range 759 - 759 m environment.
The spatulasnout cat shark, Apristurus platyrhynchus, is a cat shark of the family Scyliorhinidae found in the western Pacific between latitudes 35° N and 1° N. Its length is up to 80 cm. More
Spatulasnout cat shark; Spatulasnout catshark; Borneo cat shark; Borneo catshark 瀕危狀態 不在IUCN瀕危名單中 形態特徵 體延長,前部縱扁,後部側扁;體柔軟。吻中長,寬而扁,不及眶間隔的1. More
Common names
Apristurus platyrhynchus in Catalan (Català)
Borneo cat shark in English
borneo catshark in English
Borneokathaai in Dutch (Nederlands)
Flatnose catshark in English
Herazame in Japanese (日本語)
Holbiche malaise in French (français)
Holbiche spatula in French (français)
Holbiche spatule in French (français)
Pejegato de Borneo in Spanish (español)
Pejegato espatulado in Spanish (español)
Spatelsnuitkathaai in Dutch (Nederlands)
Spatula catshark in English
Spatulasnout cat shark in English
spatulasnout catshark in English
扁吻光尾鯊 in Mandarin Chinese
扁吻光尾鲨 in Mandarin Chinese
扁吻篦鮫 in Mandarin Chinese
扁吻篦鲛 in Mandarin Chinese
沙魚 in Mandarin Chinese
沙鱼 in Mandarin Chinese
苏拉威西光尾鲨 in Mandarin Chinese
蘇拉威西光尾鯊 in Mandarin Chinese

Custom Search