Fat catshark
Apristurus pinguis, the fat catshark, is a cat shark of the family Scyliorhinidae found only in deep water in the East China Sea.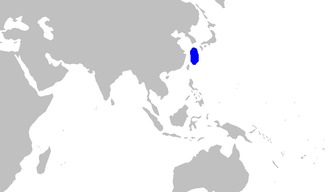 Picture of the Fat catshark has been licensed under a
GFDL
Original source
: Compagno, Leonard; Dando, Marc & Fowler, Sarah (2005). Sharks of the World. Collins Field Guides. ISBN 0-00-713610-2.
Author
: Chris_huh Permission (
Permission
: GNU Free Documentation License
The Fat catshark lives in the bathypelagic, marine, depth range 200 - 1000 m environment.
Fat catshark (Apristurus pinguis) * No detailed species description yet. More
Share Definition of fat catshark on Facebook Digg:Definition of fat catshark! stumble Definition of fat catshark Bookmark Definition of fat catshark on Delicious submit Definition of fat catshark to reddit Bookmark Definition of fat catshark noun More
Fat catshark - Apristurus pinguis (Family SCYLIORHINIDAE - Catsharks) Spatulasnout catshark - Apristurus platyrhynchus (Family SCYLIORHINIDAE - Catsharks) Deepwater catshark - Apristurus profundorum (Family SCYLIORHINIDAE - Catsharks) Broadgill catshark - Apristurus riveri (Family SCYLIORHINIDAE - Catsharks) More
Fat Catshark Apristurus pinguis The Fat Catshark is a deepwater species, endemic to the eastern China Sea, at depths between 656 and 3,280 feet. Catsharks are so named for their slender bodies and cat-like eyes. More
Common names
Apristurus pinguis in Catalan (Català)
Fat catshark in English
Vette kathaai in Dutch (Nederlands)
Vette kathaai in Unknown
粗体光尾鲨 in Mandarin Chinese
粗体光尾鲨 in Unknown
粗體光尾鯊 in Mandarin Chinese
粗體光尾鯊 in Unknown

Custom Search