Smallfin cat shark
The smallfin catshark, Apristurus parvipinnis, is a cat shark of the family Scyliorhinidae in the order Carcharhiniformes, found in the western Atlantic at depths of between 635 and 1,115.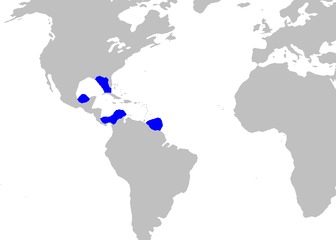 Picture of the Smallfin cat shark has been licensed under a
GFDL
Original source
: Compagno, Leonard; Dando, Marc & Fowler, Sarah (2005). Sharks of the World. Collins Field Guides. ISBN 0-00-713610-2.
Author
: Chris_huh Permission (
Permission
: GNU Free Documentation License
The Smallfin cat shark lives in the bathydemersal, marine, depth range 600 - 1380 m environment.
smallfin cat shark, smallfin catshark References Expert(s): Expert: Notes: Reference for: Other Source(s): Source: Catalog of Fishes, 17-Mar-2003, website (version More
smallfin cat shark, smallfin catshark Species Apristurus pinguis Deng, Xiong and Zhan, 1983 More
Shark, Smallfin Cat Shark, Deepwater Cat Shark, Broadgill Cat Shark, Marbled Cat Shark, Blotched Cat Shark, Chain Dogfish, Dwarf Catshark, Japanese Gulper Shark, Gulper Shark, Little Gulper Shark, Kitefin Shark, Flatnose Gulper Shark, Portuguese Shark, Greenland Shark, Lined Lanternshark, Broadband Dogfish, Caribbean Lanternshark, Great More
Smallfin Cat Shark, Smallfin Catshark Common Names in French: Holbiche Petites Ailes Common Names in Japanese: Karibu-Herazame Common Names in Mandarin Chinese: 微鰭光尾鯊, 微鰭光尾鯊, 微鳍光尾鲨 Common More
Common names
Apristurus parvipinnis in Catalan (Català)
Holbiche petites ailes in French (français)
Karibu-herazame in Japanese (日本語)
Kleinvinkathaai in Dutch (Nederlands)
Kleinvinkathaai in Unknown
Pejegato mocho in Spanish (español)
Smallfin cat shark in English
smallfin catshark in English
微鰭光尾鯊 in Mandarin Chinese
微鰭光尾鯊 in Unknown
微鳍光尾鲨 in Mandarin Chinese
微鳍光尾鲨 in Unknown

Custom Search