Longhead cat shark
The longhead catshark, Apristurus longicephalus, is a cat shark of the family Scyliorhinidae found in the Indo-West Pacific from the Seychelles, Japan, the East China Sea, the Philippines, Australia, New Caledonia, and Mozambique, between latitudes 39° N and 22° S, at depths of between 680 and 900 m.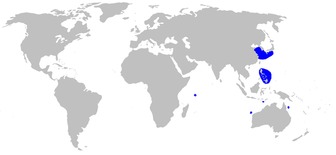 Picture of the Longhead cat shark has been licensed under a
GFDL
Original source
: Compagno, Leonard; Dando, Marc & Fowler, Sarah (2005). Sharks of the World. Collins Field Guides. ISBN 0-00-713610-2.
Author
: Chris_huh Permission (
Permission
: GNU Free Documentation License
The Longhead cat shark lives in the bathydemersal, marine, depth range 680 - 900 m environment.
Nothing known about the Longhead cat shark
Common names
Apristurus longicephalus in Catalan (Català)
Holbiche à grande tête in French (français)
Langkopkathaai in Dutch (Nederlands)
Langkopkathaai in Unknown
Longhead cat shark in English
longhead catshark in English
Pejegato cabezón in Spanish (español)
Smooth-belly catshark in English
Tengu-herazame in Japanese (日本語)
沙魚 in Mandarin Chinese
沙鱼 in Mandarin Chinese
沙鱼 in Unknown
長頭光尾鯊 in Mandarin Chinese
長頭光尾鯊 in Unknown
長頭篦鮫 in Mandarin Chinese
長頭篦鮫 in Unknown
长头光尾鲨 in Mandarin Chinese
长头光尾鲨 in Unknown
长头篦鲛 in Mandarin Chinese
长头篦鲛 in Unknown

Custom Search