Longnose cat shark
The longnose catshark, Apristurus kampae, is a cat shark of the family Scyliorhinidae found in the eastern central Pacific from central and southern California and the Gulf of California, between latitudes 38° N and 23° N, at depths down to 1,890.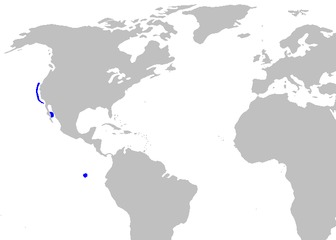 Picture of the Longnose cat shark has been licensed under a
GFDL
Original source
: Compagno, Leonard; Dando, Marc & Fowler, Sarah (2005). Sharks of the World. Collins Field Guides. ISBN 0-00-713610-2.
Author
: Chris_huh Permission (
Permission
: GNU Free Documentation License
The Longnose cat shark lives in the bathydemersal, marine, depth range 1830 - 1888 m environment.
filetail cat shark, and longnose cat shark which indicates that these other species probably are bycatch in this deepwater fishery. More
Common names
Apristurus kampae in Catalan (Català)
Gato trompudo in Spanish (español)
Holbiche tapir in French (français)
Langsnuitkathaai in Dutch (Nederlands)
Langsnuitkathaai in Unknown
Longnose cat shark in English
longnose catshark in English
Pejegato trompudo in Spanish (español)
加州光尾鯊 in Mandarin Chinese
加州光尾鯊 in Unknown
加州光尾鲨 in Mandarin Chinese
加州光尾鲨 in Unknown

Custom Search