Broadnose cat shark
Reproduction is oviparous.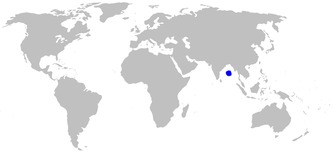 Picture of the Broadnose cat shark has been licensed under a
GFDL
Original source
: Compagno, Leonard; Dando, Marc & Fowler, Sarah (2005). Sharks of the World. Collins Field Guides. ISBN 0-00-713610-2.
Author
: Chris_huh Permission (
Permission
: GNU Free Documentation License
The Broadnose cat shark lives in the bathydemersal, marine, depth range 1040 - 1041 m environment.
Broadnose Cat Shark ( Apristurus investigatoris ) Brokenline Grouper ( Epinephelus epistictus ) Bronze Croaker ( Otolithiodes biauritus ) Bronze croaker ( Otolithoides biauritus ) Broom Filefish ( Amanses scopas ) Broussonet Tarpon ( Megalops cyprinoides More
Common names
Apristurus investigatoris in Catalan (Català)
Breedsnuitkathaai in Dutch (Nederlands)
Broadnose cat shark in English
broadnose catshark in English
Holbiche platnez in French (français)
Pejegato ato in Spanish (español)
Pejegato ñato in Spanish (español)
宽吻光尾鲨 in Mandarin Chinese
寬吻光尾鯊 in Mandarin Chinese

Custom Search