Demon cat sharks
The flaccid catshark, Apristurus exsanguis, is a cat shark of the family Scyliorhinidae found only around New Zealand.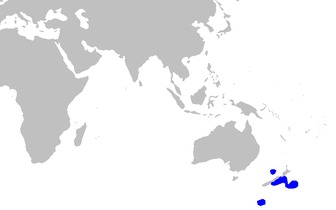 Picture of the Demon cat sharks has been licensed under a
GFDL
Original source
: Compagno, Leonard; Dando, Marc & Fowler, Sarah (2005). Sharks of the World. Collins Field Guides. ISBN 0-00-713610-2.
Author
: Chris_huh
Permission
: GNU Free Documentation License
The Demon cat sharks lives in the bathydemersal, marine, depth range 560 - 1200 m environment.
Apristurus Garman, 1913 - demon cat sharks, ghost cat sharks Direct Children: Species Apristurus albisoma Nakaya and S More
demon cat sharks, ghost cat sharks 23 Asymbolus Australian spotted cat sharks 2 Atelomycterus coral cat sharks 3 Aulohalaelurus More
Apristurus Garman, 1913 - valid - demon cat sharks, ghost cat sharks. Apristurus http://www.itis.usda.gov/servlet/SingleRpt/SingleRpt?search_topic=TSN&search_value=160004 - WildMadagascar. More
Common names
Apristurus in Catalan (Català)
Apristurus in Dutch (Nederlands)
Apristurus exsanguis in Catalan (Català)
demon cat sharks in English
ghost cat sharks in English

Custom Search