White ghost catshark
Apristurus aphyodes, the white ghost catshark, is a cat shark of the family Scyliorhinidae found in deep water in the northeast Atlantic between latitudes 57°N and 58°N.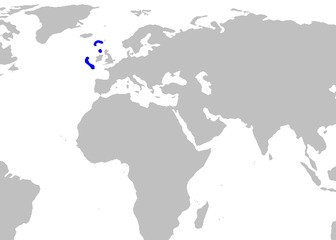 Picture of the White ghost catshark has been licensed under a
GFDL
Original source
: Compagno, Leonard; Dando, Marc & Fowler, Sarah (2005). Sharks of the World. Collins Field Guides. ISBN 0-00-713610-2.
Author
: Chris_huh Permission (
Permission
: GNU Free Documentation License
The White ghost catshark lives in the bathypelagic, marine, depth range 1014 - 1800 m environment.
Apristurus aphyodes, the white ghost catshark, is a cat shark of the family Scyliorhinidae found in deep water in the northeast Atlantic between latitudes 57th parallel north and 58th parallel north.... More
No image of White ghost catshark found in the Shark Database Range Map Earth Map Names Scientific: Apristurus aphyodes English: White ghost catshark More
Common names
Apristurus aphyodes in Catalan (Català)
Máčka severoatlantská in Czech (česky)
White ghost catshark in English
Witte kathaai in Dutch (Nederlands)
Witte kathaai in Unknown

Custom Search