Nervous shark
The nervous shark, Carcharhinus cautus, is a requiem shark of the family Carcharhinidae, found in the western Pacific Ocean between latitudes 5° S and 30° S.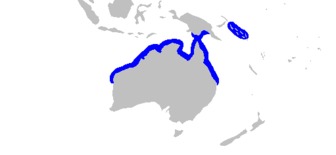 Picture of the Nervous shark has been licensed under a
GFDL
Original source
: Last, P.R.; Stevens, J.D. (2009). Sharks and Rays of Australia (second ed.). Harvard University Press. p. 256–257 Author Chris_huh Permission
Author
: Chris_huh Permission (
Permission
: GNU Free Documentation License
The Nervous shark lives in the reef-associated, marine environment.
The nervous shark, Carcharhinus cautus, is a requiem shark of the family Carcharhinidae, found in the western Pacific Ocean between latitudes 5° S and 30° S. Its length is up to about 1.5 m. More
The nervous shark has dark margins, usually along the front edges, on the first and second dorsal fins, the pectoral and tail fins. There is a black tip on the lower tail fin and sometimes on the pectoral fin A map showing the distribution of the nervous shark. More
No image of Nervous shark found in the Shark Database Range Map Earth Map Systematics Phylum: Vertebates (Chordata) Class: Carlilagenous Fishes (Chondrichthyes) Order: Ground sharks (Carcharhiniformes) More
Common names
Aileron noir in Creole, French
Aileron noir in Creoles and Pidgins, French
Anak hiu in Malay (bahasa Melayu)
Apeape in Samoan (gagana fa'a Samoa)
Bakebake in Gela
Bako mij in Marshall
Bako mij in Marshallese (Kajin M̧ajeļ)
Bakua in Gilbertese
Bakua in Kiribati
Balda in Marathi (मराठी)
Bayanakon in Banton
Black fin reef shark in English
Black finned shark in English
Black tip reef shark in English
Black tip shark in English
Black tips nilow in English
Black-tip reef shark in English
Blackfin reef shark in English
blacktip reef shark in English
Blacktip reefshark in English
Blacktip shark in English
Boka sorrah in Telugu (తెలుగు)
Bokka-sorrah in Telugu (తెలుగు)
Cá M?p vây den in Vietnamese (Tiếng Việt)
Cá Mập vây đen in Vietnamese (Tiếng Việt)
Carcharhinus cautus in Catalan (Català)
Carcharhinus cautus in French (français)
Carcharhinus melanopterus in Italian (Italiano)
Caval sorrah in Telugu (తెలుగు)
Caval-sorrah in Telugu (తెలుగు)
Chalarm Hoo-dum in Thai (ไทย)
Falhu miyaru in Maldivian
Fungu in Portuguese (Português)
Guliman in English
Gunna sura in Tamil (தமிழ்)
Gursh in Arabic (‫العربية)
Hiu in Malay (bahasa Melayu)
Hiu mada in Bali
Iho in Waray-waray
Ikan hiu in Malay (bahasa Melayu)
Jahrah in Arabic (‫العربية)
Jarjur in Arabic (‫العربية)
Kaitan tutungan in Maranao/Samal/Tao Sug
Kaitan tutungan in Tagalog
Kalakumattai-sura in Tamil (தமிழ்)
Karcharynos melanofteros in Greek (Ελληνικά)
Karcharynos melanofteros in Greek, Modern (1453)
Katta-sura in Tamil (தமிழ்)
Khada mushi in Marathi (मराठी)
Kluyu karang in Bali
Koppulisura in Tamil (தமிழ்)
Lodlod in Bikol
Lumba in Tagalog
Ma'o mauri in Tahitian (Reo Mā`ohi)
Magara in Gujarati (ગુજરાતી)
mago in Niuean
Malie-alamata in Samoan (gagana fa'a Samoa)
Manô pâ'ele in Hawaiian
Marracho tinteiro de coral in Portuguese (Português)
Mauri in Tahitian (Reo Mā`ohi)
Mookan-sravu in Malayalam (മലയാളം)
Mori in Marathi (मराठी)
Mossikhada in Gujarati (ગુજરાતી)
Mukhan sorrah in Telugu (తెలుగు)
Mukhan-sorrah in Telugu (తెలుగు)
Mustaevähai in Finnish (suomen kieli)
Neikaplethantee in Kannada (ಕನ್ನಡ)
Nella vekal sorrah in Telugu (తెలుగు)
Nervehaj in Danish (dansk)
Nerveuze haai in Dutch (Nederlands)
nervous shark in English
Nga-man-taung-me in Burmese (ဗမာစာ)
Nyatussue in Portuguese (Português)
O chan in Malay (bahasa Melayu)
Pako in Marshall
Pako in Marshallese (Kajin M̧ajeļ)
Pantay in Tagalog
Papa karaji in Swahili (Kiswahili)
Pating in Magindanaon
Pating in Maranao/Samal/Tao Sug
Pating in Tagalog
Pating in Waray-waray
Pating inglesa in Tagalog
Peshkaqen in Albanian (Shqip)
Peu in Austronesian (Other)
Peu in Carolinian
Qarsh Asswad in Arabic (‫العربية)
qio mokomoko in Fijian (vosa Vakaviti)
Rabie in Arabic (‫العربية)
Žralok cernošpicí in Czech (česky)
Žralok útesový cernocípý in Czech (česky)
Raman sorrah in Telugu (తెలుగు)
Raman-sorrah in Telugu (తెలుగు)
Ran sorrah in Telugu (తెలుగు)
Ran-sorrah in Telugu (తెలుగు)
Reef blacktip shark in English
Requien shark in English
Requin à pointes noires in French (français)
Requin nerveux in French (français)
Requin noir in French (français)
Requin pointes noires in French (français)
Schwarzspitzen-Riffhai in German (Deutsch)
Shark in English
Sharks Bay whaler shark in English
Shattafi in Arabic (‫العربية)
Sorttippet haj in Danish (dansk)
Sorttippet revhaj in Danish (dansk)
Squalo pinne nere in Italian (Italiano)
Svartspetshaj in Swedish (Svenska)
Svartspetsig revhaj in Swedish (Svenska)
Swartvin-rifhaai in Afrikaans
Tauró de puntes negres dels esculls in Catalan (Català)
Te baiburebure in Gilbertese
Te baiburebure in Kiribati
Te baiburebure in Tuvaluan
Te bakoa in Gilbertese
Te bakoa in Kiribati
Teburon in Kuyunon
Thalan-sorrah in Tamil (தமிழ்)
Tiburón de aletas negras in Spanish (español)
Tiburón de puntas negras in Spanish (español)
Tiburón nervioso in Spanish (español)
Tsuma guro in Japanese (日本語)
Tsumaguro in Japanese (日本語)
tubarão in Portuguese (Português)
Tubarão negro in Portuguese (Português)
Tubarão-de-pontas-negras-do-recife in Portuguese (Português)
Tutongan in Bikol
Tutungan in Bikol
Woshaalang in Austronesian (Other)
Woshaalang in Carolinian
Xituo in Portuguese (Português)
Yu kepak hitam in Malay (bahasa Melayu)
Yu nipah in Malay (bahasa Melayu)
Yu shirip hitam in Malay (bahasa Melayu)
Yu sirip hitam in Malay (bahasa Melayu)
Žralok černošpicí in Czech (česky)
Žralok útesový černocípý in Czech (česky)
Zwartpuntrifhaai in Dutch (Nederlands)
Καρχαρίνος μελανόφτερος in Greek (Ελληνικά)
Καρχαρίνος μελανόφτερος in Greek, Modern (1453)
އުރަހަކަޅު މިޔަރު in Divehi (‫ދިވެހި)
खादा मुशी in Marathi (मराठी)
बाळदा in Marathi (मराठी)
मोरी in Marathi (मराठी)
મગરા  in Gujarati (ગુજરાતી)
મોસીખડા  in Gujarati (ગુજરાતી)
கட்டா சுரா  in Tamil (தமிழ்)
கட்டைச் சுரா in Tamil (தமிழ்)
கலக்குமட்‍டை சுரா in Tamil (தமிழ்)
கலக்குமாட்டை சுரா in Tamil (தமிழ்)
குணா சுரா in Tamil (தமிழ்)
குன்ன சுரா  in Tamil (தமிழ்)
குப்புலீ  சுரா in Tamil (தமிழ்)
கொப்புலி சுரா in Tamil (தமிழ்)
தாலஞ் சுரா in Tamil (தமிழ்)
தாளன் சுரா  in Tamil (தமிழ்)
కావల్ సొర్రా  in Telugu (తెలుగు)
బోక్కా సొర్రా  in Telugu (తెలుగు)
ముఖాన్ సొర్రా   in Telugu (తెలుగు)
రన్ సొర్రా      in Telugu (తెలుగు)
రమన్ సొర్రా    in Telugu (తెలుగు)
ನೇಕಪ್ಲೀತಂಟೀ in Kannada (ಕನ್ನಡ)
മൂക്കന് സ്രാവ്  in Malayalam (മലയാളം)
മൂക്കന് സ്റാവ് in Malayalam (മലയാളം)
乌翅真鲨 in Mandarin Chinese
大沙 in Mandarin Chinese
污翅白眼鮫 in Mandarin Chinese
污翅白眼鲛 in Mandarin Chinese
澳洲真鯊 in Mandarin Chinese
澳洲真鲨 in Mandarin Chinese
烏翅真鯊 in Mandarin Chinese

Custom Search