Bastard soldierfish
Myripristis jacobus is a Soldierfish from the Western Atlantic.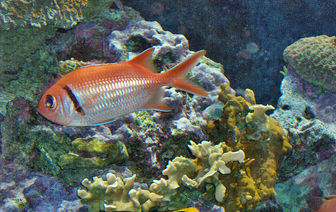 Picture of the Bastard soldierfish has been licensed under a Creative Commons
Attribution
.
Original source
: Own work (Own photo)
Author
: Georges Jansoone (
The Bastard soldierfish lives in the reef-associated, marine, depth range 0 - 100 m , usually 2 - 35 m environment.
English: Bastard soldierfish, roundhead conga; French: Marignon mombin; Spanish: Candil de piedra. PHYSICAL CHARACTERISTICS Grow up to 10 in (25 cm) in length. More
Bastard SoldierfishMyripristis jacobus = Facts max size: 25. More
Common names
Baga-baga in Davawenyo
Baga-baga in Unknown
Bagsang in Ilokano
Bagsang in Unknown
Bartolito in Spanish (español)
Bastard soldierfish in English
Big-eyed squirrelfish in English
Bigeye squirrelfish in English
blackbar soldierfish in English
Brother Jim in English
Buffalohead in English
Candil in Spanish (español)
Candil barreado in Spanish (español)
Candil colorado in Spanish (español)
Candil de piedra in Spanish (español)
Carajuelo in Spanish (español)
Chinaman in English
cundeamor in Spanish (español)
Debojo in Papiamento
Debojo in Unknown
diablito in Spanish (español)
Fogueira in Portuguese (Português)
Frère jacque in French (français)
Frère Jacques in French (français)
Ganting in Davawenyo
Ganting in Unknown
Gællebåndet soldaterfisk in Danish (dansk)
Mãe de caqui in Creole, Portuguese
Mãe de caqui in Creoles and Pidgins, Portuguese
Mãe de caqui in Portuguese (Português)
Mãe de caqui in Unknown
Marignon mombin in French (français)
Mariquita in Portuguese (Português)
Mariquita do alto in Portuguese (Português)
Mariquita-olhão in Portuguese (Português)
mombin in French (français)
Odjita in Creole, Portuguese
Odjita in Creoles and Pidgins, Portuguese
Odjita in Unknown
Odjito in Creole, Portuguese
Odjito in Creoles and Pidgins, Portuguese
Odjito in Portuguese (Português)
Odjito in Unknown
Olheto in Portuguese (Português)
Olho-de-vidro in Portuguese (Português)
Peixe soldado in Portuguese (Português)
Peixe-gato in Portuguese (Português)
Peixe-soldado in Portuguese (Português)
Pirapiranga in Portuguese (Português)
Rainha in Creole, Portuguese
Rainha in Creoles and Pidgins, Portuguese
Rainha in Portuguese (Português)
Rainha in Unknown
Rei in Creole, Portuguese
Rei in Creoles and Pidgins, Portuguese
Rei in Portuguese (Português)
Rei in Unknown
Rei-de-mar in Creole, Portuguese
Rei-de-mar in Creoles and Pidgins, Portuguese
Rei-de-mar in Portuguese (Português)
Rei-de-mar in Unknown
Roundhead in English
Roundhead conga in English
Saya-matsukasa in Japanese (日本語)
Seenorass in Creole, English
Seenorass in Creoles and Pidgins, English
Seenorass in English
Seenorass in Unknown
Softback soldierfish in English
soldado raya negra in Spanish (español)
Squirrelfish in English
Torito in Spanish (español)
Toro in Spanish (español)
Toto in Portuguese (Português)
Toto in Spanish (español)
Vovó-de-mariquita in Portuguese (Português)
Wow 'i boyo in Papiamento
Wow 'i boyo in Unknown
Wow 'i deboyo in Papiamento
Wow 'i deboyo in Unknown
Wowo di awa in Papiamento
Wowo di awa in Unknown
Wowo di baca in Papiamento
Wowo di baca in Unknown
Wowo di bojo in Papiamento
Wowo di bojo in Unknown
Yamurous in Unknown
Yamurous in Wayuu
рыба-белка Якоба in Russian (русский язык)
黑条锯鳞鱼 in Mandarin Chinese
黑条锯鳞鱼 in Unknown
黑條鋸鱗魚 in Mandarin Chinese
黑條鋸鱗魚 in Unknown

Custom Search