Redmarbled lizardfish
The Redmarbled lizardfish which is also known as Synodus saurus is a type of lizardfish or Synodontidae that lives mainly in the Indo-West Pacific.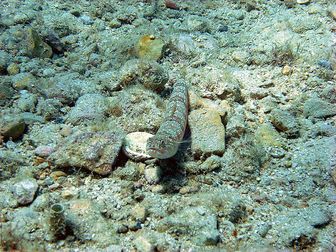 Picture of the Redmarbled lizardfish has been licensed under a Creative Commons
Attribution-Share Alike
.
Original source
: originally posted to Flickr as 20090713-143036
Author
: Thomas Göttlicher Permission (
The Redmarbled lizardfish lives in the reef-associated, marine, depth range 5 - 50 m environment.
Redmarbled lizardfish; Lizardfish; Longfin lizardfish; Orangemouth lizardfish; Wanieso lizardfish; Triplecross lizardfish; Lighthouse lizardfish; Offshore lizardfish; Sand lizardfish; Shorthead lizardfish; Sechura lizardfish; Inotted lizardfish; Arrowtooth lizardfish; Diamond lizardfish; Sauro lizardfish; Greater lizardfish; Brazilian lizardfish; Shortfin lizardfish; Slender lizardfish; Smallscale lizardfish; More
Common names
Red-marbled lizardfish in English
Redmarbled lizardfish in English
狗母 in Mandarin Chinese
狗母 in Unknown
紅花斑狗母 in Mandarin Chinese
紅花斑狗母 in Unknown
紅花斑狗母魚 in Mandarin Chinese
紅花斑狗母魚 in Unknown
红花斑狗母 in Mandarin Chinese
红花斑狗母 in Unknown
红花斑狗母鱼 in Mandarin Chinese
红花斑狗母鱼 in Unknown

Custom Search