Yellow-mouth eel
Gymnothorax nudivomer is a Moray Eel from the Indo-Pacific.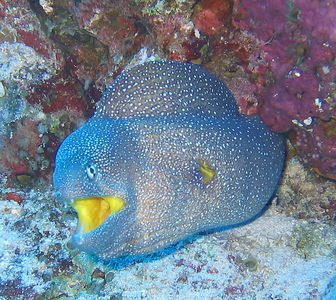 Picture of the Yellow-mouth eel has been licensed under a Creative Commons
Attribution-Share Alike
.
Original source
: Transferred from fr.wikipedia; transferred to Commons by User:Leoboudv using
Author
: Original uploader was ALaydier at fr.wikipedia Permission (
The Yellow-mouth eel lives in the reef-associated, marine, depth range 2 - 271 m , usually 30 - m environment.
Another name for a Yellow-mouth eel is a Gymnothorax nudivomer Source: Digital Fish Funnel, July 27, 2004 report as bad entry | send to a friend via email Add your own definition of Yellow-mouth eel. More
Common names
Ade-utsubo in Japanese (日本語)
bonu in Fijian (vosa Vakaviti)
Bwalagom in Kumak
Congre tacheté in French (français)
Gulmundet muræne in Danish (dansk)
Moreia ponteada in Portuguese (Português)
Muréna žlutotlamá in Czech (česky)
Muréna žlutotlamá in Czech (česky)
Murène à bouche jaune in French (français)
Musaf fum al asfar al bahri in Arabic (‫العربية)
Posau in Gela
Puhi in Hawaiian
starry moray in English
Sterretjies-bontpaling in Afrikaans
Yellow-mouth eel in English
Yellow-mouth moray in English
Yellow-mouthed moray eel in English
Yellowmouth moray in English
星斑裸胸鱔 in Mandarin Chinese
星斑裸胸鳝 in Mandarin Chinese
薯鰻 in Mandarin Chinese
薯鳗 in Mandarin Chinese
虎鰻 in Mandarin Chinese
虎鳗 in Mandarin Chinese
裸鋤裸胸鯙 in Mandarin Chinese
裸锄裸胸鯙 in Mandarin Chinese
錢鰻 in Mandarin Chinese
钱鳗 in Mandarin Chinese

Custom Search