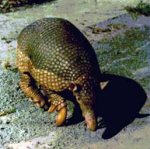 The giant armadillo (
Priodontes maximus
) or (
Priodontes giganteus)
is the largest member of the armadillo family. It is an endangered species, living in tropical rainforests in South America, near termite mounds. They primarily feed on termites and certain ants and will consume a whole termite mound population once discovered. Giant armadillo's are easily distinguishable from other armadillo's by their huge size. They can weigh up to 26 kg and reach 90 cm in length. They are also known for their burrowing techniques. When a termite mound has been eradicated, they will bury themselves in the remains and rest there before moving on. It is believed that the giant armadillo is also a good swimmer.
"The giant armadillo was classified as Extremely Endangered (EN — A1cd) on the World Conservation Union's Red List in 2002, and is listed under Appendix I (threatened with extinction) of the Convention on the International Trade in Endangered Species of Wild Flora and Fauna. (source)"
Picture of the giant armadillo by Alessio Marrucci, licensed under GNU Free Documentation License.
Keywords: tail
The Giant armadillo is listed as Vulnerable (VU), considered to be facing a high risk of extinction in the wild, on the IUCN Red List of Threatened Species
Namings for the giant armadillo
A young / baby of a giant armadillo is called a 'pup'. The females are called 'zed' and males 'lister'. A giant armadillo group is called a 'fez'.
Countries
Argentina
,
Bolivia
,
Brazil
,
Colombia
,
Ecuador
,
French Guiana
,
Guyana
,
Paraguay
,
Peru
,
Suriname
,
Uruguay
and
Venezuela
Some facts about the
Giant armadillo
Adult weight : 33 kg (72.6 lbs)
Maximum longevity : 15 years
Female maturity :320 days
Male maturity : 320 days
Gestation : 122 days
Weaning : 35 days
Litter size : 2
Weight at birth : 0.062 kg (0.1364 lbs)
Basal metabolic rate : 17 W
Body mass : 45.19 kg (99.418 lbs)
Temperature : 33.85 °C (92.93 °F)
Custom Search
Play animal guess