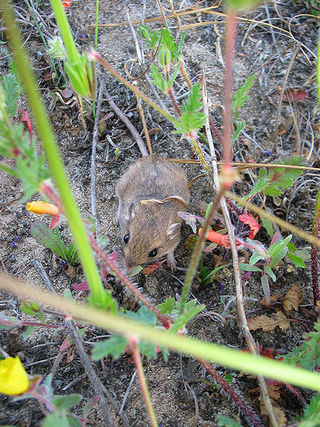 Little pocket mouse
Order : Rodentia
Suborder : Sciurognathi
Family : Heteromyidae
Subfamily : Perognathinae
Species : Perognathus longimembris

The Little pocket mouse is listed as Least Concern (LR/lc), lowest risk. Does not qualify for a more at risk category. Widespread and abundant taxa are included in this category, on the IUCN Red List of Threatened Species
Namings for the little pocket mouse
A young / baby of a little pocket mouse is called a 'pinkie, kitten or pup'. The females are called 'doe' and males 'buck'. A little pocket mouse group is called a 'nest, colony, harvest, horde or mischief'.
Some facts about the
Little pocket mouse
Adult weight : 0.008 kg (0.0176 lbs)
Maximum longevity : 8 years
Female maturity :151 days
Gestation : 22 days
Weaning : 28 days
Litter size : 5
Litters per year : 1
Weight at birth : 0.001 kg (0.0022 lbs)
Weight at weaning : 0.004 kg (0.0088 lbs)
Body mass : 0.009 kg (0.0198 lbs)
Temperature : 34.85 °C (94.73 °F)
Facts about the little pocket mouse
The little pocket mouse, Perognathus longimembris, is a small mouse that occurs in desert and shrubland habitats in the extreme western United States and northwestern Mexico. (Full text)
The Pocket Mouse (Perognathus longimembris) is a heteromyid rodent native to arid regions of the southwest U. (Full text)
The Little Pocket Mouse is from the order Rodentia. (Full text)
This little pocket mouse is partial to sandy soils covered with sparse vegetation. (Full text)
Dan Holland The Pacific little pocket mouse is 2. (Full text)
Description: The little pocket mouse is indeed, a small mouse. (Full text)
Posted on Sunday, July 14, 2002 @ 05:40:19 PSTLittle pocket mouse - Perognathus longimembris The little pocket mouse is a common to abundant yearlong resident of the southern deserts.
Endangered Status The Pacific Pocket Mouse, a subspecies of the Little Pocket Mouse, is on the U. (Full text)
Similar Species Little Pocket Mouse is smaller, with shorter tail.
php'); CallAdv(); CreateTd(3) Description:The little pocket mouse is indeed, a small mouse. (Full text)
Best Little Mouse in the House This little pocket mouse is by far the best performer I've used. (Full text)
This little pocket mouse is by far the best performer I've used. (Full text)
More animals beginning with L
Custom Search