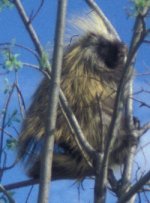 The North American Porcupine, also called the Canadian Porcupine (
Erethizon dorsatum
) is the second largest rodent on North American soil. The largest rodent in North America is the beaver. The North American Porcupine is part of the New World porcupines, which are much less nocturnal than the Old World porcupines. Still, they are most active at night and resting in trees during hot summer days... Its natural predators are
Wolverines
,
Fishers
and
Coyotes
.
The North american porcupine is listed as Least Concern (LR/lc), lowest risk. Does not qualify for a more at risk category. Widespread and abundant taxa are included in this category, on the IUCN Red List of Threatened Species
Namings for the North American porcupine
A young / baby of a North American porcupine is called a 'pup'. The females are called 'sow' and males 'boar'. A North American porcupine group is called a 'prickle or family'.
Some facts about the
North American porcupine
Adult weight : 8.6 kg (18.92 lbs)
Maximum longevity : 23 years
Female maturity :1095 days
Male maturity : 1095 days
Gestation : 210 days
Weaning : 60 days
Litter size : 1
Litters per year : 1
Weight at birth : 0.5 kg (1.1 lbs)
Weight at weaning : 1 kg (2.2 lbs)
Basal metabolic rate : 14 W
Body mass : 6.871 kg (15.1162 lbs)
Temperature : 35.85 °C (96.53 °F)
Custom Search