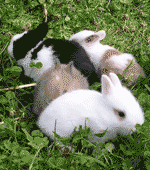 Domesticated rabbits (Oryctolagus cuniculus) are one of the most popular pets, apart from dogs and cats. They look attractive, lovely, gentle, friendly and cute. They are easy to take care and undemanding in terms of care and housing. They will settle well either indoor or outdoor, at home. There are 40 species of rabbits and hares worldwide. All domesticated rabbits are originated from European rabbits. The scientific name for domestic rabbit is Oryctolagus cuniculus.
The European rabbit is listed as Least Concern (LR/lc), lowest risk. Does not qualify for a more at risk category. Widespread and abundant taxa are included in this category, on the IUCN Red List of Threatened Species
Namings for the European rabbit
A young / baby of a European rabbit is called a 'bunny, kit, kitten, leveret or nestling'. The females are called 'doe or jill' and males 'buck or jack'. A European rabbit group is called a 'warren, nest, colony, bevy, bury, drove or trace'.
Countries
Albania
,
Algeria
,
Austria
,
Belgium
,
Bulgaria
,
Croatia
,
Czech Republic
,
Denmark
,
France
,
Germany
,
Gibraltar
,
Greece
,
Hungary
,
Ireland
,
Italy
,
Morocco
,
Netherlands
,
Norway
,
Poland
,
Portugal
,
Romania
,
Russia
,
Slovakia
,
Spain
,
Sweden
and
United Kingdom
Some facts about the
Old World rabbit
Adult weight : 1.8 kg (3.96 lbs)
Female maturity :730 days
Gestation : 30 days
Weaning : 26 days
Litter size : 5
Litters per year : 4
Interval between litters : 29 days
Weight at birth : 0.045 kg (0.099 lbs)
Weight at weaning : 0.214 kg (0.4708 lbs)
Basal metabolic rate : 7 W
Body mass : 2.168 kg (4.7696 lbs)
Temperature : 38.85 °C (101.93 °F)
Links
Rabbit allergy treatment
- Many people have not heard about this allergy when first buying their pet rabbit. This site explains what you can do when you own a rabbit and have a rabbit allergy.
Custom Search
Play animal guess