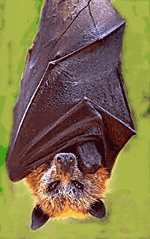 The giant golden crowned fruit bat (
Acerodon jubatus
) is endangered by overactive hunting and habitat destruction. They can be found on the Philippines, in the province Sarangani. It is believed to be the largest bat in the world according to
Wikipedia
and several other sites. However,
this site
, on the vanishing treasures of the earth by the Field museum in Chicago, suggests otherwise. It says the giant golden crowned fruit bat is indeed the
largest in weight
, but the
Pteropus Vampyrus
is the
largest in size (wingspan)
, which is the criterium in my book. Bats are usually called by how they look... You have the dog-faced bat, spear-faced bat, hammer-head bat, bull dog bat, and little brown bat. The giant golden crowned fruit bat follow this line (see image). Permission is granted to copy, distribute and/or modify the image of the golden crowned fruit bat under the terms of the
GNU Free Documentation License
, Version 1.2 or any later version published by the Free Software Foundation; with no Invariant Sections, no Front-Cover Texts, and no Back-Cover Texts. Subject to
disclaimers
. Released as GFDL by LDC, Inc. Foundation.
The Golden-capped fruit bat is listed as Endangered (EN), considered to be facing a very high risk of extinction in the wild, on the IUCN Red List of Threatened Species
Namings for the goldencapped fruit bat
A young / baby of a goldencapped fruit bat is called a 'pup'. A goldencapped fruit bat group is called a 'colony or cloud'.
Custom Search