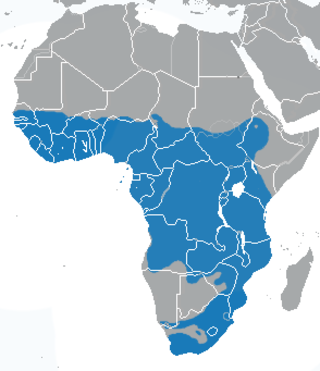 Picture has been licensed under a
GFDL
Author
: Udo Schröter
Permission
: GNU Free Documentation License
Marsh mongoose
Order : Carnivora
Family : Herpestidae
Subfamily : Herpestinae
Species : Atilax paludinosus

Keywords: tail
The Marsh mongoose, water mongoose is listed as Least Concern (LR/lc), lowest risk. Does not qualify for a more at risk category. Widespread and abundant taxa are included in this category, on the IUCN Red List of Threatened Species
Namings for the marsh mongoose
A marsh mongoose group is called a 'mongeese or mongaggle'.
Countries
Algeria
,
Angola
,
Botswana
,
Cameroon
,
Congo, Democratic Republic of the
,
Cote d'Ivoire
,
Equatorial Guinea
,
Ethiopia
,
Gabon
,
Liberia
,
Malawi
,
Mozambique
,
Niger
,
Rwanda
,
Senegal
,
Sierra Leone
,
Somalia
,
South Africa
,
Sudan
,
Tanzania
,
Uganda
and
Zambia
Some facts about the
Marsh mongoose
Adult weight : 3.3 kg (7.26 lbs)
Maximum longevity : 21 years
Male maturity : 255 days
Gestation : 76 days
Weaning : 36 days
Litter size : 2
Litters per year : 2
Weight at birth : 0.1 kg (0.22 lbs)
Weight at weaning : 0.55 kg (1.21 lbs)
Facts about the marsh mongoose
Range and Habitat The marsh mongoose is largely distributed throughout Africa south of the Sahara desert.
The Marsh Mongoose is widely distributed over all the better-watered parts of Africa. (Full text)
The shaggy-coated marsh mongoose is not uncommon in suitable habitat alongside rivers and swamps, where it feeds on crabs and molluscs. (Full text)
The marsh mongoose is very rare and the three most likely to be seen are the dwarf, banded and slender or black-tipped. (Full text)
According to Kingdon (1989), the marsh mongoose is the nearest ecological competitor of the clawless otter, although it forages mostly in marshes and on the riverbank whereas the otter forages in deep water.
Civet and porcupine have continued to show up at regular intervals and sightings of genet, thick tailed and lesser bush baby, white-tailed and marsh mongooses are frequently recorded.
More animals beginning with M
Custom Search