Crowned puffer
Canthigaster coronata is a Pufferfish from the Indo-West Pacific.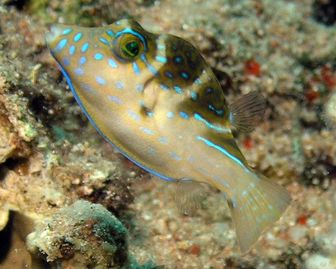 Picture of the Crowned puffer has been licensed under a Creative Commons
Attribution
.
Original source
: originally posted to Flickr as Cow Fish Autho
Author
: Rob Permission (
The Crowned puffer lives in the reef-associated, marine, depth range 6 - 100 m environment.
The Crowned Puffer is white with a brown saddle dorsally behind the eye and three saddles on the body. It resembles the Saddled Puffer but has orange spots and blue makings on the margins of the saddles. More
Image: A Crowned Puffer at Flinders Reef - Add comment Add tags A Crowned Puffer at Flinders Reef Description A Crowned Puffer at a depth of 15 m, Flinders Reef, southern Queensland, More
Canthigaster coronata, the crowned puffer, has a long snout, black saddles and distinctive markings around the eyes. More
Hawaiian Saddle Puffer, Crowned Puffer, Threebarred Toby, Coronation Puffer Fast Facts Very similar to the Valentini Puffer this is another attractive member of the genus, all of which are very similar. More
The Crowned Puffer resembles the more common Black Saddled Puffer. They are not safe with inverts like crabs and shrimp. 1 Product(s) Starting at $29. More
Common names
Canthigaster couronné in French (français)
Crown toby in English
Crowned puffer in English
Crowned pufferfish in English
Firesadlet kuglefisk in Danish (dansk)
foursaddle puffer in English
Hanakinchakufugu in Japanese (日本語)
Hue in English
Hue in Tuamotuan
kalavo in Fijian (vosa Vakaviti)
Kruunupallokala in Finnish (suomen kieli)
Lesh in Austronesian (Other)
Lesh in Carolinian
Lighabobo in Austronesian (Other)
Lighabobo in Carolinian
Phowot in Kumak
Poisson ballon in French (français)
Pu'u olai in Hawaiian
Saal-tobie in Afrikaans
Saddle toby in English
Saddle-back puffer in English
Three-barred toby in English
Thundigu-koli in Mahl
花冠扁背魨 in Mandarin Chinese
花冠扁背鲀 in Mandarin Chinese
角尖鼻魨 in Mandarin Chinese
角尖鼻鲀 in Mandarin Chinese
鞍斑扁背魨 in Mandarin Chinese
鞍斑扁背鲀 in Mandarin Chinese

Custom Search