Harlequin filefish
The orange spotted filefish is pale blue with about eight longitudinal rows of orange-yellow patches.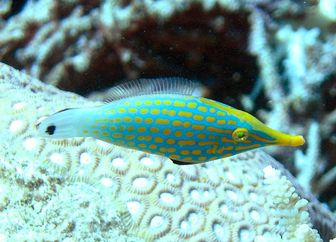 Picture of the Harlequin filefish has been licensed under a Creative Commons
Attribution-Share Alike
.
Original source
: Flickr Author Richard Ling
Author
: Richard Ling
The Harlequin filefish lives in the reef-associated, non-migratory, marine, depth range 4 - 30 m environment.
Harlequin Filefish are typically offered at very affordable prices that often entice an uninitiated aquarist to make an impulse purchase. More
In his recent article "A New Future for the Harlequin Filefish" in CORAL Magazine, Matt Pedersen discusses keeping and breeding the harlequin or orangespotted filefish (Oxymonacanthus longirostris) in his nano reef. More
Harlequin Filefish" in the March / April 2009 issue of CORAL Magazine. More
Harlequin filefish; Filefish; Harlequin rockfish; Harlequin sharkminnow; Harlequin sandsmelt; Harlequin darter; Harlequin sweetlips; Harlequin hind; Harlequin tuskfish; Harlequin wrasse; Harlequin mantella; Harlequin frog; Harlequin ladybird; Harlequin bug; Harlequin duck; Harlequin toad; Harlequin quail; Harlequin bass; Orangespotted filefish; Scrawled filefish; More
The Harlequin Filefish is truly unique. This beautiful, but shy filefish is a light shade of green with orange spots. This particular species has an elongated nose and body. In the wild, they eat only acropora polyps. More
Common names
beaked leatherjacket in English
Chundan-karatti in Malayalam (മലയാളം)
Coral filefish in English
Dlinnorylyi edinorog in Russian (русский язык)
Harlekyn-vylvis in Afrikaans
Harlequin filefish in English
Jagungan in Malay (bahasa Melayu)
Langsnudet filfisk in Danish (dansk)
Lime à taches orange in French (français)
Lime à taches oranges in French (français)
Longnose filefish in English
Longnosed filefish in English
Orangefläckig Filfisk in Swedish (Svenska)
Pa'umalo-gutuumi in Samoan (gagana fa'a Samoa)
Pakol in Waray-waray
Panitan in Waray-waray
Poisson lime à taches oranges in French (français)
Sagoksok in Cebuano
Sagugsok in Davawenyo
Te bubuawai in Gilbertese
Te bubuawai in Kiribati
Tengukawahagi in Japanese (日本語)
Thundigu-kalihi in Mahl
ތުންދިގު ފަތިރޮނޑު in Divehi (‫ދިވެހި)
ചുണ്ടം കരട്ടി in Malayalam (മലയാളം)
ചുണ്ടന് കരട്ടി  in Malayalam (മലയാളം)
尖吻单棘鲀 in Mandarin Chinese
尖吻單棘魨 in Mandarin Chinese
尖吻魨 in Mandarin Chinese
尖吻鲀 in Mandarin Chinese
尖嘴炮弹 in Mandarin Chinese
尖嘴砲彈 in Mandarin Chinese

Custom Search