Spotbase burrfish
Red Sea to South Africa and east to southern Japan, the Philippines, Australia and New Caledonia.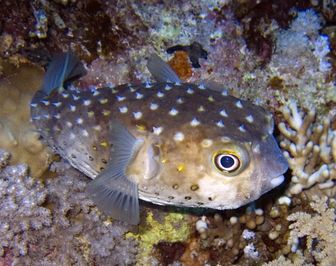 Picture of the Spotbase burrfish has been licensed under a Creative Commons
Attribution-Share Alike
.
Original source
: yellowspotted burrfish Author jon hanson from london, UK
Author
: jon hanson from london, UK Permission (
The Spotbase burrfish lives in the reef-associated, marine, depth range 3 - 90 m environment.
* Spotbase burrfish, Cyclichthys spilostylus (Leis & Randall, 1982) * Genus Dicotylichthys * Three-barred porcupinefish, Dicotylichthys punctulatus Kaup, More
Common names
burrfish in English
Butete in Cebuano
Doto in Surigaonon
Duto in Surigaonon
Geelspikkel-klitsvis in Afrikaans
Gelbflecken-Igelfisch in German (Deutsch)
Gulplettet pindsvinefisk in Danish (dansk)
Pez erizo in sp
Pez erizo base de punto in Spanish (español)
Poisson-hérisson à points jaunes in French (français)
Spotbase burrfish in English
Tagotong in Cebuano
Tagutong in Surigaonon
Yellow-spotted burrfish in English
Yellow-spotted porcupinefish in English
Yellowspotted Burrfish in English
黃斑圓刺魨 in Mandarin Chinese
黄斑圆刺鲀 in Mandarin Chinese

Custom Search