Gilded triggerfish
Unlike most triggerfish, it is rarely aggressive towards other fish.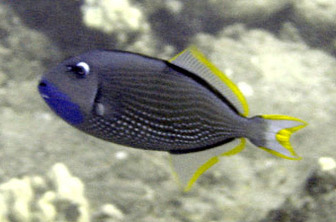 Picture of the Gilded triggerfish has been licensed under a Creative Commons
Attribution-Share Alike
.
Original source
: Transferred from en.wikipedia; transferred to Commons by User:IngerAlHaosului u
Author
: Original uploader was MattWright at en.wikipedia Permission (
The Gilded triggerfish lives in the reef-associated, marine, depth range 8 - 150 m , usually 24 - 147 m environment.
This fish is known as Gilded Triggerfish, Blue Chin Triggerfish, Blue Throat Triggerfish and the correct latin name is Xanthichthys Auromarginatus. It belongs to the Triggers family. (e) It's origin is Indo-Pacific. More
Gilded Triggerfish, Blue Throat Triggerfish Description The female Blue Jaw Triggerfish lacks the blue patch on the throat and yellow tail but don't let that detract from the attractiveness of this fish. More
Gilded Triggerfish, is grayish-brown, covered with light-blue spots. The fins are edged in yellow. The male of the species has a darker blue area on the cheeks, hence the name Bluechin or Blue Throat. More
Welcome to our gilded triggerfish webpage for owners and gilded triggerfish enthusiasts. gilded triggerfish information - They can grow up to 30 centimeters (12 in) in length, but are usually around 18 cm (7 in). More
Common names
Ampapagot in Tagalog
Ampapagot in Visayan
Bluechin guilded triggerfish in English
Bluechin triggerfish in English
Buubul nipom in Austronesian (Other)
Buubul nipom in Carolinian
Gilded trigger in English
Gilded triggerfish in English
Guilded triggerfish in English
Hoshimongara in Japanese (日本語)
Humuhumu in Hawaiian
Logeloge in Gela
Papakol in Tagalog
Puggot in Maranao/Samal/Tao Sug
Puggot in Tagalog
Xanthichthys auromarginatus in Catalan (Català)
Xanthichthys auromarginatus in French (français)
金边黄鳞鲀 in Mandarin Chinese
金邊黃鱗魨 in Mandarin Chinese
黃鱗魨 in Mandarin Chinese
黄鳞鲀 in Mandarin Chinese

Custom Search